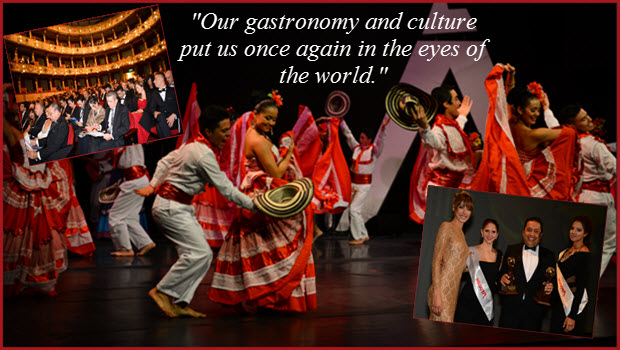 Peru Wins: South America's Top Culinary & Cultural Destination
Peru had a pretty good night Saturday at the 22nd World Travel Awards, known as the Oscars of Tourism.
During the gala ceremony held at the Teatro Colón in Bogota Colombia, Peru was chosen for the fourth consecutive year as South America's Best Culinary Destination. It  was also recognized for the second consecutive year as the continent's Best Cultural Destination.
"Our gastronomy and culture put us once again in the eyes of the world," Magali Silva Velarde-Alvarez, Minister of Foreign Trade and Tourism, said in communique issued by Peru's tourism board PromPeru.
"They are two categories that make Peru a unique destination and remind us that by maintaining our identity and traditions, but offering quality services, we can attract more tourists," she continued.  Foreign tourism accounts for 4 percent of  Peru's GDP, she added.
The World Travel Awards were established in 1993 to recognize excellence in the travel industry, tourism and hospitality worldwide.
The winners Saturday of the regional edition of the World Travel Awards will participate in the world edition of the World Travel Awards at a gala scheduled for December 12 in Morocco.
Peru's World Travel Awards Track Record:
2015 South America's Leading Culinary Destination
2015 South America's Leading Cultural Destination
2014 World's Leading Culinary Destination
2014 South America's Leading City Break Destination
2014 South America's Leading Culinary Destination
2014 South America's Leading Cultural Destination
2014 South America's Leading Heritage Destination
2014 World's Leading Tourism Authority Website
2013 World's Leading Culinary Destination
2013 South America's Leading Culinary Destination
2013 South America's Leading Tourist Board
2012 World's Leading Culinary Destination
2012 World's Leading Green Destination
2012 South America's Leading Culinary Destination
2012 South America's Leading Tourist Board
2011 South America's Leading Green Destination
2011 South America's Leading Tourist Board
2010 South America's Leading Green Destination
2009 South America's Leading Tourist Board