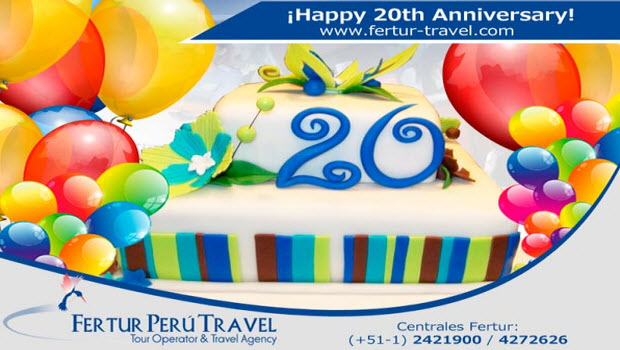 Fertur Peru Travel celebrates 20th year serving travelers
We turned 20 today!
We started from humble beginnings: an information desk in the iconic backpacker Hostal España and a shared office on Jirón Belén. Since then, Fertur Peru Travel has grown to maturity with two offices in Lima (one in the historic center and the other in Miraflores) and our Cusco office to manage direct ground operations.
We will continue to offer a unique line of travel packages and day tours, including customized private tours in Cusco, Lima, Trujillo, Arequipa and the rest of our amazing country.
From our earliest days, we focused on tapping into the unique, at times unusual, always fun and infinitely fascinating destinations, culture and history of Peru to share with our clients.
We are still a family owned and operated business, and we cannot begin to express how proud we are of our dedicated staff, past and present.
For the next 20 years, we're going to work even harder to provide the best travel services possible, before, during and after every customer's journey.
Siduith Ferrer,
General Manager
Fertur Peru Travel through the years: