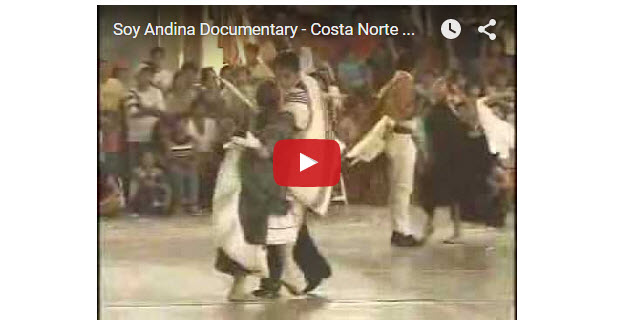 There's a lively debate about the origins of the Marinera, and several contrasting schools of thought. It's not surprising that everyone in Peru wants to claim a slice of the country's most popular dance. It's a dramatic and romantic paired dance, with the couple making sweeping gestures, showing off the white traditional costumes of Peru's north coast. Watch this clip from the documentary Soy Andina, which travels through Peru, explaining the country's diverse regional cultures through the story of two dancers.
The Marinera shares its origins with the Tondero, a dance from Piura in northern Peru, developed by the horsemen of the region, who came from a gitano or ¨gypsy¨ background. It was then adopted and adapted by African slaves who worked in the sugar plantations of the region.
In the north of the country the dance was simplified, in Lima it became more complex and stylized over time. The Northern style has held sway over the rest of the country.
The Mecca for the national dance is Trujillo, where the National Festival of the Marinera is held every January, and lasts for the better part of a month.