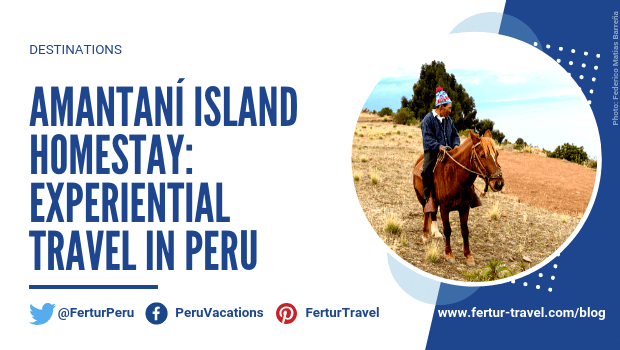 Amantaní Island Homestay: Experiential Travel in Peru
There are many different ways to travel and see the world, and every person has their own preferred method of doing so. If you're the type of traveler who cares a lot about having deep, meaningful interactions with the real culture of the place you're visiting, then you would love doing an Amantaní Island homestay in Lake Titicaca.
This isn't part of your typical tourist circuit; you won't find yourself shooting the breeze with a bunch of other tourists from the United States and Europe. Rather, you'll spend a night with a family on an island hidden away in the vastness of Lake Titicaca, which forms part of the border between Peru and Bolivia.
About Lake Titicaca
Before delving further into the wonderful experiences that await you on Amantaní, it's only appropriate to give a little more information on Lake Titicaca and the wealth of tourist activities available in the region.
The area around Lake Titicaca has become popular for tourists in Peru for a handful of reasons. First of all, the lake and its surroundings are beautiful. At a cool 3,812 meters (12,507 feet), Lake Titicaca is the highest-altitude navigable lake in the world. Covering more than 3,200 square miles, the lake is also enormous — larger in area than a few dozen countries!
The nearby town of Juliaca has an airport (Inca Manco Capac Airport) with frequent flights to and from Lima, so it's especially accessible as a tourist destination. Its convenient location across the border from Bolivia also makes it a frequent stop for tourists. Most local tourism is run through Puno, the largest city on the Peruvian side of the lake.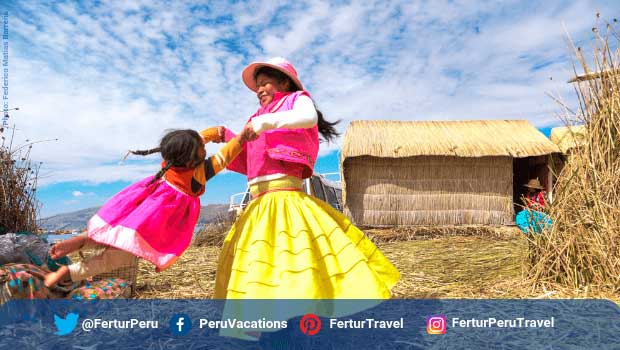 But by and large, the main attraction of the Lake Titicaca area is the uros, or floating islands. The uros are between 80-120 artificial islands, on which indigenous peoples have lived since before the time of the Incas. The islands are made from totora reeds, a type of plant native to the region.
Many tourists either plan a convenient stop on their travels to see the Uros or go out of their way to make sure they get to see the phenomenon. Visitors to the floating islands even get to hop off the boat and walk around the reed islands — a most unusual experience!
---
Related: Uros Floating Islands
---
Amantaní Island Homestay
If you're visiting Lake Titicaca (or are even just thinking about it) and you tend to enjoy experiential travel, or if you're just wondering where to stay in Puno and don't mind a little detour, it is an absolute must to visit and stay on Isla Amantaní with a local family.
The experience begins in Puno, as you embark from the Peruvian port to Amantaní, which is almost 40 kilometers (about 24 miles) away. Gliding across the waters of Lake Titicaca is, in itself, a delightful experience — the water is calm, the air is fresh, and the scenery is gorgeous.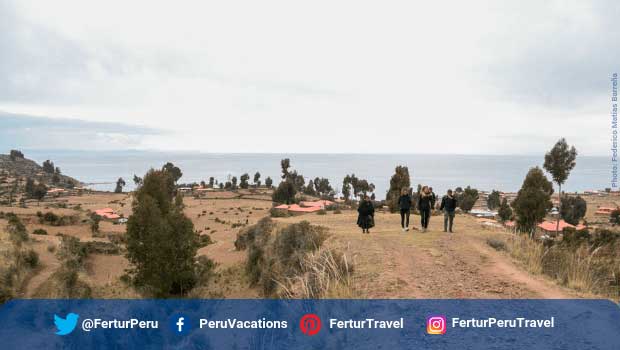 Upon your arrival at the island, you'll be taken to your homestay. These are families who have lived on the island for generations, but only in recent years have begun opening their houses to tourists. With support from the international development community, the people of Amantaní have built a robust tourism industry around the experience of the culture on the island.
Your gracious hosts will give you an Amantaní Island tour and invite you to partake in their customs, often including music and dance shows at night. You might play a game of pick-up soccer with some locals near the terraces, or just walk around the island and take in its beauty.
You'll stay overnight at the homestay, where you'll eat home-cooked food, enjoy adequate hygienic resources, and maybe even share good conversation with the hosts. (While the people of the island traditionally speak the indigenous language of Quechua, those in the tourism industry speak Spanish, and, if you're lucky, a little English.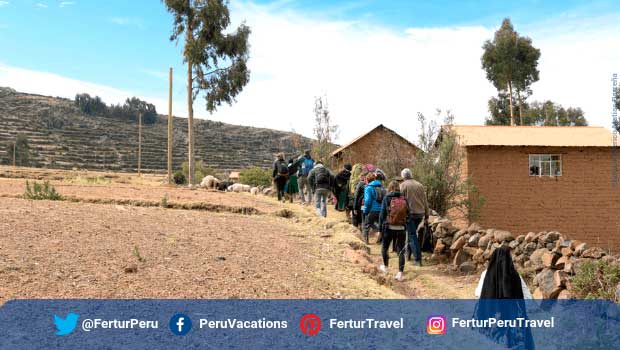 After staying with the family overnight, you'll have a hearty breakfast then make your way back to Puno by boat.
In many ways, Amantaní is extremely isolated from society. It's only accessible by a multi-hour boat ride. Most residents of the island eschew modern technology, because they prefer a way of life that keeps them more in touch with their community and culture. Visiting the island, you are immersed in this culture.
In other ways, Amantaní is ahead of the curve. The island has incorporated solar technology to provide the electricity requisite for its basic needs, and has found plenty of ways to accommodate the tourism industry without sacrificing what makes it so special: a culture anchored to its profound history and detached from the hallmarks of a technology-addled society.
Visiting Amantaní Island
A homestay on Amantaní is very easy to work into a trip to Peru. It's accessible from Lima, and not terribly far from Arequipa or Cusco. In fact, Fertur's amazing 16-day tour of Southern Peru includes a visit to the area and an overnight stay on Isla Amantaní with a local homestay on the 10th night: Southern Peru Travel Package 16 Days
Of course, it would be perfectly plausible to work a visit to an Amantaní Island homestay into any trip to Peru — just reach out to us through Whatsapp or the Contact Us Now form for more information about how to add this special element of experiential travel into your itinerary.