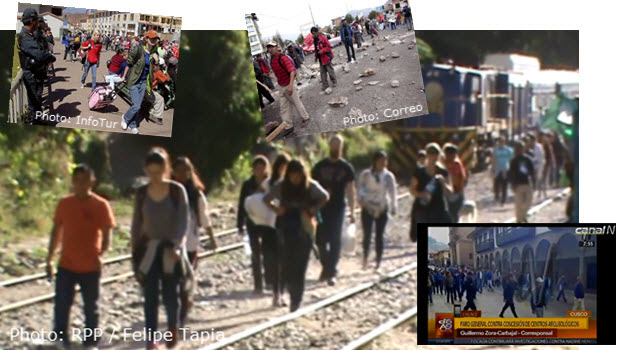 Legislative Decree 1198 and your Cusco vacation next week
Update: Congress voted late Wednesday 80 to seven with six abstentions to repeal Legislative Decree 1198.   
Peru's Congress is taking up debate between today and Friday whether to repeal a modification to the country's cultural patrimony law that opens the door to private and public investment to manage, promote and conserve thousands of pre-Hispanic archaeological sites.
Cusco's main public employee union is threatening to paralyze the Inca capital city and Machu Picchu with an indefinite strike, to begin on Dec. 2,  if lawmakers don't vote to kill the law.
We have been busy these past few days explaining the situation to Fertur's clients and preparing alternatives where possible to avoid having their travel plans ruined, should the strike go forward.
The law in question, Legislative Decree 1198, was passed in September but Congress repealed it last month, bowing to pressure from Cusco's population, which rose up in two days of protests.
That opposition appeared at first blush to be based on pure ideological conviction, given that the law would not apply to any of Cusco's major archaeological sites — literally not a one of them.
But the protests were rife with misinformation and demagoguery. People truly believed that Cusco's historic center and Machu Picchu were on the bloc for privatization, in spite of the UNESCO World Heritage Site status that makes such a thing impossible.
President Ollanta Humala vetoed the law's repeal, and sent it back to Congress last week for re-consideration, but with added language from the Ministry of Culture emphasizing that each regional government has the right to decide whether to implement the law.
Roger Valencia, president of the Cusco Chamber of Tourism, came out this week strongly against the threatened strike.
He said that additional language, giving regional governments the power to decide which cultural monuments the law applies to, deserves consideration.
"By resorting to a strike, we are opposing this option, which would mean a significant advance toward decentralization," Valencia told El Diario del Cusco newspaper.
Legislative Decree 1198 is based on the Burra Charter, a cultural heritage management model that's been updated every few years and emulated worldwide since it was first promulgated in 1979 in Burra, Australia.  Legislative Decree 1198 stipulates that any private management concession must include commitments to fund research, conservation and restoration of pre-Hispanic archaeological sites, while promoting their access and social use. Projects would be chosen on a regional basis and be subject to public comment. Project concessions, awarded in public bidding, would be limited 10 years.
Support for the law is growing in other parts of Peru, where local governments and archaeological conservationists recognize public-private partnerships as a proven model for cultural heritage development and management.
The model has already been a great success over the past 30 years in northern Peru. The Backus and Wiese foundations, Minera Barrick, and the National University of Trujillo have financed amazing projects and fostered stunning archaeological discoveries at the Moche Temples of the Sun and Moon, the Pyramids of Túcume and the Huaca Cao, just to name a few.
But examples like those don't sway the hardliners in Cusco. If past is prologue, though, lawmakers are unlikely to stand up to those hardliners by voting in favor of the law.
Congress in late 2007 passed legislation sponsored by lawmaker Carlos Bruce, which sought to do basically what this decree aims to accomplish. Then, as now, Cusco rose up in opposition. And, then as now, an amendment was offered exempting Cusco if it didn't want to participate.
But the protests in Cusco continued and intensified, and the "Bruce Law" was ultimately and definitively repealed.
If this law is defeated, as well, it would come as a relief to several of our clients, but it would be a shame, I think, for Peru.