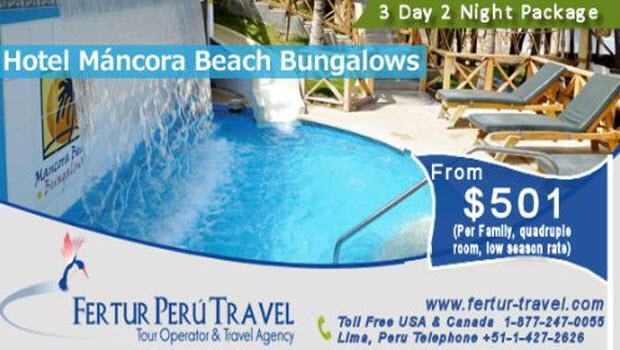 Family Vacation in Mancora Beach Bungalows
Enjoy a great time with the whole family in the Hotel Mancora Beach Bungalows, located near Pocitas de Mancora in Piura, a beautiful resort with facilities specifically designed for families in their bungalows with 1 or 2 bedrooms. It also has a waterfall pool with slide, barbecue grills, bonfires, recreational games for children and much more.
Contact Fertur Peru Travel for a quote on this family trip to Mancora, a beach resort on the north coast of Peru with year round sunshine and cool nights.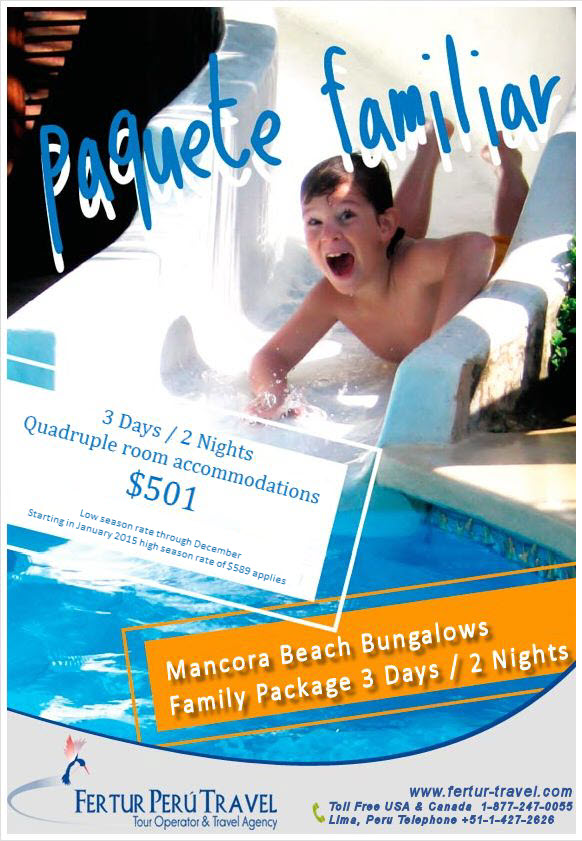 [symple_tabgroup] [symple_tab title="Book Now"]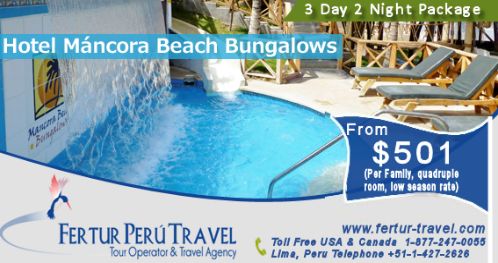 * Please fill in all required fields so a Fertur Peru Travel advisor can reply quickly with a quote.

*Click this link to view our Booking Policy
[/symple_tab] [symple_tab title="Program"]
First Day:
Welcome cocktail for adults, frozen lemonade or soda for kids
Dinner a la carte: dish, dessert and drink (soft drink)
Second Day:
Continental Breakfast
Lunch à la Carte: appetizer, main dish and soft drink
Family Campfire
Children – soda, chips, hotdogs and marshmallows

Adults – beer or soda, chips, hotdog or sausage and marshmallows.
Third Day:
[/symple_tab] [symple_tab title="Terms*"]
Lunch: selection of main dish does not include menu items made with lobster or grouper fish
High Season: January, February, March, May, August and October
Some date restrictions may apply. Offer not valid during national Peruvian holidays
Price are in USD based on a family of four in Quadruple accommodations, subject to availability
Peruvians and/or legal residents of Peru subject to IGV
Prices do not include airfare or overland transport Lima / Piura / Lima.
Prices subject to change without notice
Published rate includes 5% surcharge for credit card or bank transfer fee
Offer valid  for travel through Dec. 20, 2015.
[/symple_tab] [/symple_tabgroup]