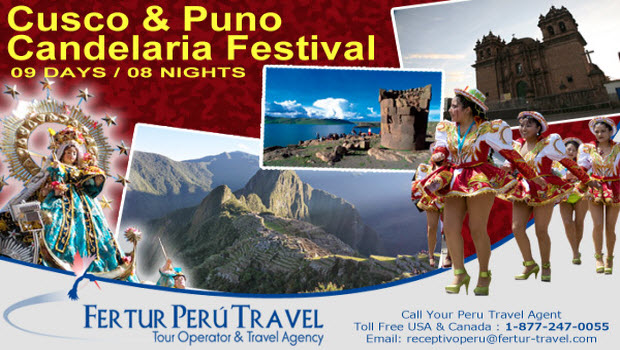 Special: Cusco and Virgin of Candelaria Festival in Puno
Here is a special 9-day Vacation Package, featuring Cusco, the Sacred Valley and a private guided tour of Machu Picchu, and culminating with the Virgen de Candelaria Festival in Puno on the shores of Lake Titicaca.
Price per person $ 1,300 (double room occupancy)
For those who have Machu Picchu on their bucket list for 2019, who love to explore and experience traditional cultures, who love dance and a great party, this South American tour is for you. It features tours from Cusco to Lake Titicaca.
You'll begin by exploring the historic streets of Cusco, Peru's famed Inca capital city, with its fascinating museums, and mix of Spanish colonial and Inca architecture and ancient ruins.
In a small group tour, you'll head into the Sacred Valley, the bread basket of the Inca civilization, and explore the archaeological complex of Ollantaytambo.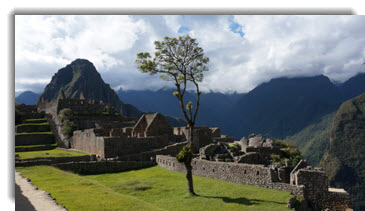 You will have a private guide to explore the most important site of them all, the world-famous ruins of Machu Picchu, the iconic UNESCO World Heritage Site renowned as "an absolute masterpiece of architecture and a unique testimony to the Inca civilization."
For the trip from Cusco to Puno, experience the Ruta del Sol ("Route of the Sun"). It is a comfortable and fascinating overland journey with frequent breaks along the way for guided tours of impressive Inca and Wari archaeological sites and amazing views of the high Andean altiplano.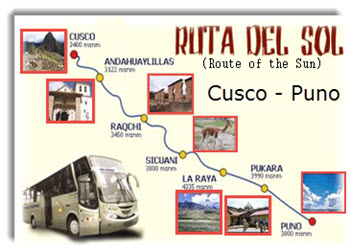 The first stop is the Pre-Inca citadel of Pikillacta — Quechua for "City of the Thumbs" — which retains the vestiges of more than 700 structures surrounded by 12-meter high walls built by the Wari Empire.
In the high Andean town of Andahuaylillas, tour the temple of Saint Peter of Andahuaylillas, also known as the Sistine Chapel of the Americas for its rich colonial artworks and painted murals that cover the walls, arches, entrances and ceilings.
A buffet lunch is served on a final stop before the last leg of the journey.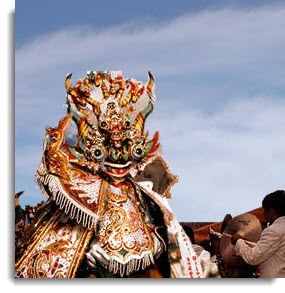 The next day, there is a boat tour of the world's highest navigable lake, Titicaca, with visits to the traditional island communities on the floating reed Island of Urus and Tequile.
Virgin of Candelaria Festival in Puno
The Candelaria Festival is one of Peru's most important religious and cultural celebrations, bringing together thousands of musicians and dancers in ornate traditional costumes. There is wonderful food and plenty of drink as the city of Puno comes alive.
Held during the first two weeks of February each year, the festival honors the patron saint of the city of Puno, the Virgen of Candelaria. A triumvirate of Catholic and highland native traditions — Quechua, Aymara and mestizo — are on display in veneration of the virgin, whose statue is carried through the streets of the city in a richly orchestrated procession. In 2014, UNESCO inscribed the Peru religious festival in February onto the Representative List of the Intangible Cultural Heritage of Humanity.
Who is the Virgin of Candelaria?
The Sacred image of the dark skinned Virgin Mary dates back to 1390 when, according to legend, two goat herders on Tenerife, the largest of the Canary Islands, discovered her statue perched on a rock near the shore of Chimisay beach. She bore a child in one hand and a green candle in the other.
In Peruvian lore, her venerated image protected Puno in 1675 from a marauding Spaniard, José Salcedo, who threatened to burn down the homes of the local miners. The miners reported witnessing the Virgen de la Candelaria in the sky, engulfed in flames, engaged in battle with a demon. The vision of that miracle frightened Salcedo so that he fled.
From that grew the cult and the name of the Miraculous Virgin of La Candelaria.
Her blinding luminous image is said to have also frightened away rebel forces in 1781 who planned to lay siege to Puno during Tupac Amaru II's rebellion against the Spanish Vice royalty.
[symple_tabgroup] [symple_tab title="Book Now"]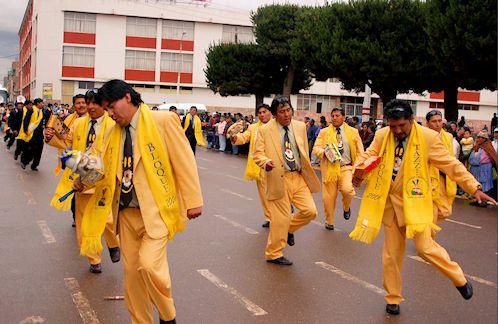 * Please fill in all required fields so a Fertur Peru Travel advisor can reply quickly with a quote.

*Click this link to view our Booking Policy
[/symple_tab] [symple_tab title="Program"]
Day 1:
(Feb. 4, 2019) Welcome to Lima – Transfer to Hotel
Day 2:
(Feb. 5, 2019) Airport Transfer – Cusco – Transfer to Hotel – Afternoon City Tour Cusco + surrounding archaeological sites
Day 3:
(Feb. 6, 2019) Cusco – Sacred Valley excursion & small group guided tours – Expedition Train to Aguas Calientes
Day 4:
(Feb. 7, 2019) Machu Picchu Excursion & privately guided tour – Cusco
Day 5:
(Feb. 8, 2019) Cusco – Ruta del Sol – Puno
Day 6:
(Feb. 9, 2019) Urus & Tequile Islands boat tours – Puno
Day 7:
(Feb. 10, 2019) Virgin of Candelaria feast Parade
Day 8:
(Feb. 11, 2019) Sillustani excursion – Lima – Transfer to Hotel
Day 9:
(Feb. 12, 2019) Lima – Airport transfer – Farewell!
[/symple_tab] [symple_tab title="Conditions"]
The Package Includes:
Private transfer in and out in each city
City Tour Cusco + Ruins in shared service
Sacred Valley excursion + lunch in shared service
Train ticket Expedition train Est. Ollantaytambo – Aguas Calientes
Train ticket Vistadome train (Aguas Calientes – Cusco)
Machu Picchu excursion in private service + lunch in Sanctuary Lodge
Transfer Poroy Train Station – Hotel in Cusco
Inka Express Cusco – Puno in shared service + lunch
Full day Uros & Taquile in shared service + Lunch
Folklore parade Candelaria Feast in shared service + 1 beer + battle water + cotillion
Sillustani excursion in private service
Train ticket + entrance fee
Accommodation in each City of the itinerary + breakfast
HOTELS ☆☆☆:
LIMA: EL TAMBO HOTEL
CUSCO: MUNAYWASI
AGUAS CALIENTES: CASA ANDINA CLASSIC
PUNO: CONDE DE LEMOS
(These properties are referential – subject to confirmed reservation and booking)
Subject to availability
Price are in USD based on double room occupancy for adults
Peruvians and/or legal residents of Peru subject to IGV
Prices do not include airfare
Prices subject to change without notice
Published rate includes 5% surcharge for credit card or bank transfer fee
Offer valid for travel through Jan. 31, 2019.
[/symple_tab] [/symple_tabgroup]