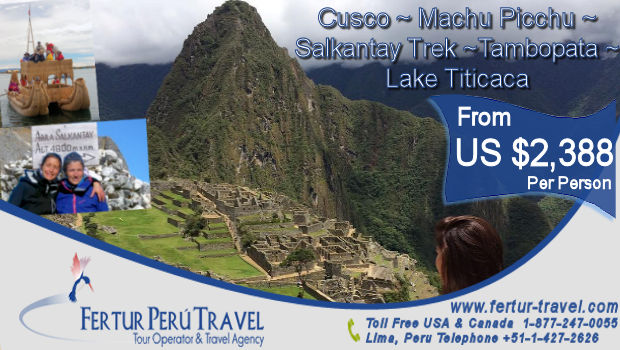 Machu Picchu and Salkantay Trek plus Amazon Jungle and Lake Titicaca 2018
Here's a 15-day vacation featuring (now get this…) the ancient Inca capital of Cusco, the Sacred Valley and Machu Picchu, a small group trek around the snowcapped Salkantay Mountain, plus an Amazon rain forest adventure and tours of Lake Titicaca.
The program is designed to begin with no activities and a restful day and night in Cusco to acclimatize before setting out on your first foray, a guided tour of the two-mile-high ancient city and its surrounding Inca ruins.
That is followed by a full-day tour of the Sacred Valley of the Inca, a verdant stretch of Spanish colonial towns and Inca archaeological complexes along the Urubamba River.
On the fourth day, you will set out early, heading northwest of the city of Cusco for a small-group, four-day trek of Salkantay — the highest peak in the Vilcabamba mountain range and identified as one of the 25 best Treks in the World by National Geographic Adventure Travel Magazine.
Explore the iconic Inca Sanctuary of Machu Picchu, one of humanity's greatest architectural feats, a stone city poetically perched perfectly on the saddle of a mountain between two craggy peaks.
Experience three days of solitude and natural wonder in an Amazon rain forest lodge in the Tambopata Reserve, replete with guided excursions to witness colorful birds and jungle mammals in their natural habitat.
Ply the waters of Lake Titicaca, the world's highest navigable lake, visiting the floating Islands of Los Urus and Taquile.
Tours in Shared Service
⋆⋆⋆ Hotel Accommodations
Price Per Person
$2,388.00 USD*
* Some date restrictions Apply
Jungle lodge subject to availability
Airfare not included
Rate valid through October 31, 2018.
Prices are subject to 18% VAT (IGV) for Peruvian
citizens and legal residents of Peru
Would you like more information?