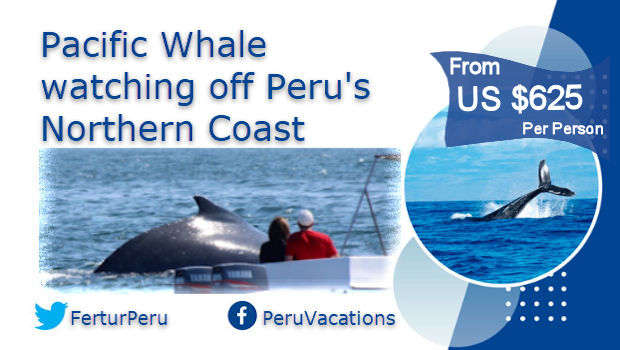 Whale Watching on Peru's tropical northern coast
Each year the warm Pacific waters along Peru's Northern coast are transformed into a wondrous natural spectacle of majestic humpback whales performing spectacular leaps.  
Peru is one of the best places in the world for whale watching from late July through October, off of the tranquile white sand beaches of Tumbes and Piura.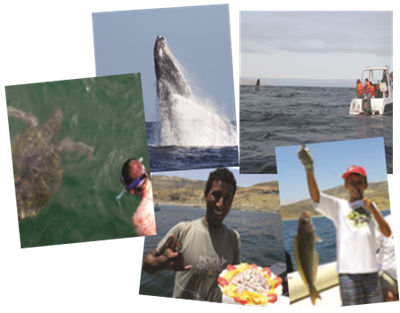 Most visitors to Peru this time of year are focused on Peru's better known destinations, like Cusco and Machu Picchu in the southern highlands. But the idyllic tropical setting, and activities like whale watching, make Peru's northern beaches an excellent choice for relaxing and winding down after the high-altitude rigors of an Inca Trail trek.
The cetaceans arrive from the Antarctic waters to Peru's coastal waters to breed and raise their calves, which in adulthood can grow to 56 feet long and weight up to 40 tons. (More than 30 species of whales and dolphins have been recorded in Peruvian waters, representing 37 percent of all known cetacean species.)
Visitors who stroll the beaches of Los Organos, in Piura, often need only a pair of binoculars to spot the humpback whales' tremendous aerial leaps with their young.
Tour Boats offer closer observation of these gentle giants, some of the world's largest and most  beautiful marine mammals, to see them breaching the water high into the air, flipper slapping and tail lobbing.
You can also encounter giant sea turtles, dolphins, sea lions and a host of birds, such as the blue-footed booby and frigates.
Fertur Peru Travel has put together a 5-day package tour, starting at $625 per person, to witness this natural wonder, and much more, with four nights accommodation at Mancora Beach Bungalows by Antigua.
 Transfer Talara Airport – Mancora – Talara Airport
4 Nights Accommodation + Breakfast
3 Tours:
• Fishing excursion (make your own Peruvian ceviche) & snorkeling with sea turtles
• Whale Watching
• Scuba diving
Enjoy the charming family ocean resort 
Ask us about a Peru Whale Watching Tour Package