Cusco vacations that coincide with great cultural festivals
We have been busy this month planning our new tours and packages for 2015 with an eye toward promoting Cusco travel programs that are:
Unbelievably joyous fun
Fascinating and educational
Culturally authentic and a little challenging (because you can't have one without at least a little bit of the other)
 Involve music and dancing, preferably in the streets and well into the night
 And don't give short shrift to the iconic and magical mainstays, like the Sacred Valley and, of course, Machu Picchu
To that end, Fertur is launching a dedicated  Cultural Festivals section on the Web site. We're still working on some of the programs, but this is what's on offer so far:
Each year in July, thousands of  devotees and spectators fill the sleepy town of Paucartambo to venerate the "Virgen del Carmen",  or "Mamacha Carmen," the patron saint of mestizos. In terms of pure spectacle and fun, this four-day festival is world class — right up there with Mardi Gras or Carnival. But it is uniquely Andean in place and character.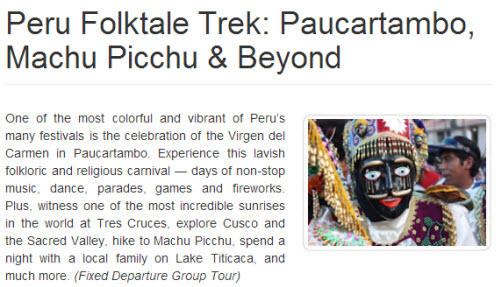 To some extent almost all of Peru's traditional festivals reveal an underlying tension between its pre-Columbian religious beliefs and the Catholic faith that about 80 percent of the population adheres to. The Qoyllur Rit'i Pilgrimage and celebration is a prime example. Tens of thousands of people gather from surrounding towns and villages to reach an isolated valley high in the Andes to worship — in no particular order of hierarchical significance — Taytacha (Father Earth), Jesus, the Virgin Mary and a host of powerful Apu deities. The rituals and customs are as beautiful as the trek to get there is arduous. But the party that surrounds the event is something very few foreigners have the privilege to experience.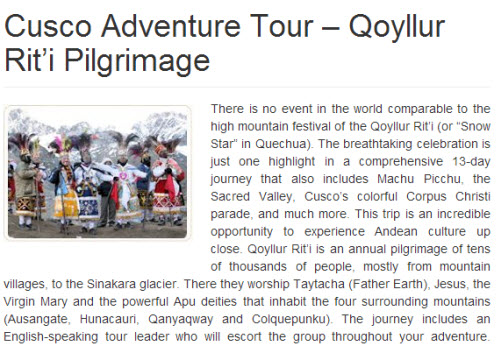 Inti Raymi, the annual recreation of one of the four most important Inca ceremonies,  was described by chroniclers, including Juan de Batanzos, José de Acosta, Guaman Poma and Cristóbal de Molina. They each recounted the ritual celebration of feasting and dance held each year around the June Solstice in honor of the Sun God Inti. During the reign of the Inca, only the ruling elite of royal blood were allowed to participate in the great festival. For centuries after the Spanish Conquest, Inti Raymi was driven underground, replaced by Catholic celebrations of Corpus Christi. Then in 1944, the celebration was revived as an expression of indigenous culture that all Peruvians could rejoice in. Since then, the event has evolved into one of South America's most important festival, drawing visitors from all over the world.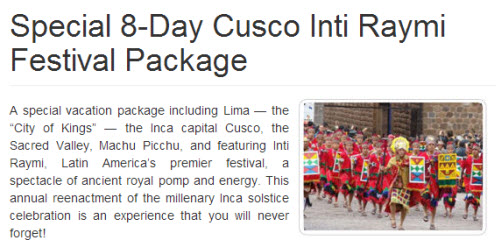 If you like this post, please remember to share on Facebook, Twitter or Google+