Colca Lodge: Book the Best Rates With Fertur!
---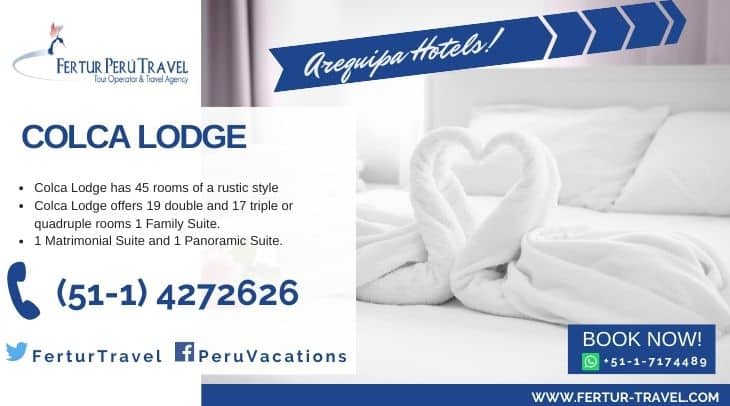 ---
Located in the middle of the canyon, on the banks of the Colca River, and surrounded by traditional farming terraces Colca Lodge takes inspiration from Inca architecture to provide a luxurious retreat, especially for families. Constructed entirely of stone, mud bricks and thatched roofs the hotel offers a range of multi-day treks and three thermal hot springs built with the explicit goal of not interfering with the natural environment. Water is taken from volcanic sources and feeds into rustic stone pools, a haven for children after a day exploring a valley twice as deep as the Grand Canyon.
⭐⭐⭐⭐
Prices available upon request
---
Contact Us: We have the best prices for the Colca Lodge
To book your vacation now or consult with us, fill out the "Contact Us" form to the right and a Fertur Peru Travel coordinator will contact you within one working day with detailed information about your fully customizable trip. Fertur Peru Travel's pledge is to offer you top-quality, individualized attention that starts with the planning of your trip and continues through your journey to guarantee a great vacation.
Go Back to Arequipa Hotels