Updated April 14, 2022 (Check frequently for Peru Travel Covid 19 info. Peru travel restrictions for Covid 19 are being reevaluated and adjusted by the government every 7 to 14 days.)
Travel to Peru has reopened. No more mandatory quarantines for arriving passengers. Most of the country is experiencing "moderate" to "high" levels of alert for Covid-19. The government has lifted nightly curfews throughout the country.

Currently, no major tourist destinations are experiencing "very high" or "extreme" alert levels.
As international travel to Peru gradually increases, we are doing everything we can to ensure our trips are as safe as possible for everyone — for our travelers, our guides and drivers, our staff, and all the people we come in contact with along the way.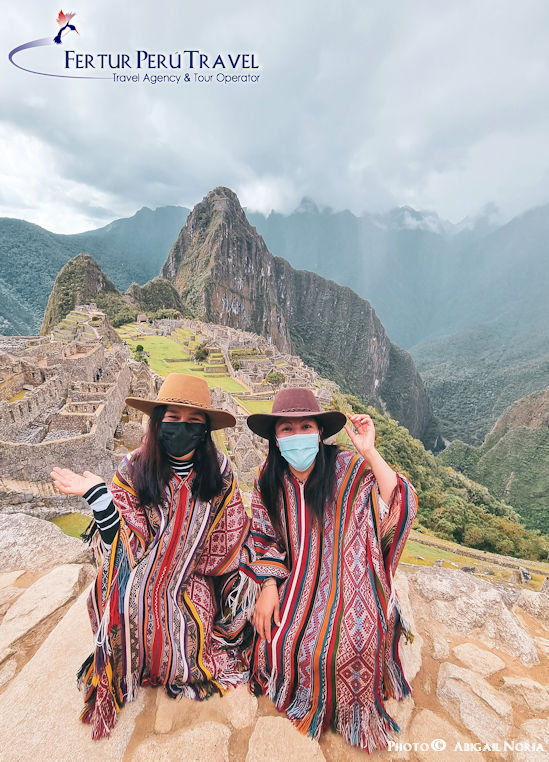 Renowned and breathtaking destinations in Lima, Arequipa, and Cusco are all once again open to visitors!
Are wearing masks and getting vaccinated mandatory in Peru?
If you want to travel around with relative ease, the answer is yes. Masks are compulsory throughout Peru when you're out and about. Adults over the age of 18 must show proof of vaccination to enter indoor public spaces. Adults 40 and over must show proof that they have gotten their booster shot, as well. They may show their physical or virtual vaccination card demonstrating they have completed their COVID-19 vaccination. In the case of restaurants, masks can only be removed when eating or drinking. A double mask (a 3-ply surgical mask underneath and a cloth mask over it) or a single KN95 is required for entry to enclosed public places, such as airports, bus terminals, supermarkets, shopping centers and banks.
Double masking is required to board all flights within Peru. Proof of vaccination completed at least `14 days prior to boarding is also necessary to avoid having to present a negative molecular Covid-19 test taken within 48 hours of the flight.
Covid-19 Vaccinations to enter Peru
To enter Peru, all adult travelers 18 and older must show proof upon arrival that they have completed three doses of the Covid-19 vaccine at least 14 days before boarding the flight to Lima. Adolescents aged 12 and older must show proof of at least two doses. Those who have not completed their Covid-19 vaccinations within 14 days must present a negative PCR-test result issued no more than 48 hours before their flight. Children under 12 years of age are not subject to the vaccination or PCR test requirements, but must be symptom-free in order to board the plane to Lima.
National health personnel stationed in the immigration area can also require incoming passengers to take a molecular (PCR) test as a complimentary health measure if they are arriving from a country where there is documented community spread of infections due to Covid-19 variants of concern.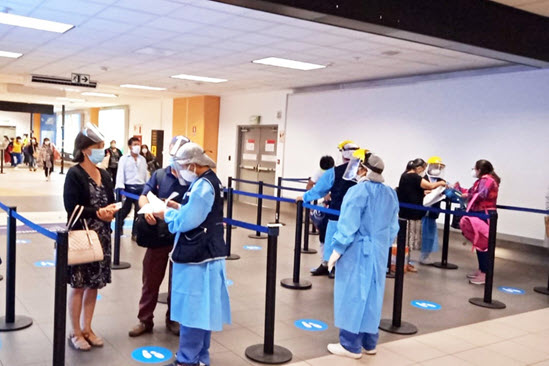 All travelers must complete the online "Affidavit of Health and Geolocation Authorization" within 48 hours of their flight to Peru.
Once submitted, you will receive a form containing a QR code that you can either print or store on your Smartphone. You will need to show it to immigration officials upon arrival to Lima's Jorge Chávez International Airport to enter the country.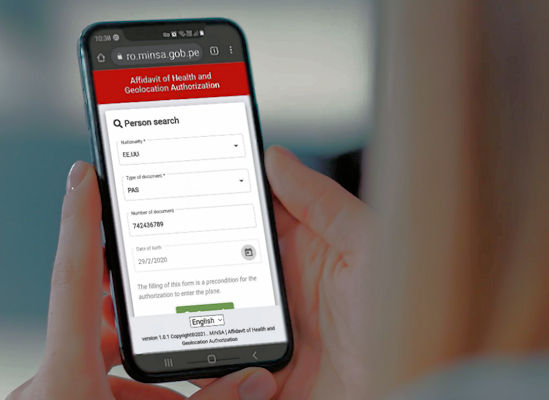 Domestic flights within Peru
Passengers over 12 years old are required to show they are fully vaccinated to board all domestic flights. Passengers over 40 years must show in addition that they have received a third booster shot. Otherwise they must present a negative PCR test result taken within 48 hours of the flight.
Peru's Covid 19 protocols for bus journeys
A mask must be worn at all times during the ride. Currently, all inter-provincial bus passengers 12 years and older must show proof of their completed Covid-19 vaccinations. Passengers 40 years and older MUST additionally show that they received a booster shot to board. Otherwise they must present a negative PCR test result taken within 48 hours of the bus journey.
The border crossing with Ecuador is open. The border with Chile will be open as of May 1. For Bolivia, the Desaguadero and the Kasani borders are once again allowing tourists to cross, allowing international itineraries for Cusco – Puno – Titicaca – La Paz – Uyuni to start back up!
Social Distancing in Peru
Restaurants, supermarkets, grocery stores and banks are once again open at 100% occupancy. Other establishments, including salons, spas, gyms, and churches are also open at 100% occupancy.
Large cultural and religious festivals remain suspended, as well as any type of social events constituting a mass concentration of people that would put public health at risk.
PeruRail's service to Machu Picchu is running at 100 percent capacity. Its wagons — the Vistadome and Expedition trains — are equipped with state-of-the-art HEPA air sterilizing filter systems.
Covid-19 Safety Protocols on the train to Machu Picchu
All passengers must wear a double mask for train service between Cusco and Machu Picchu. Proof of Covid-19 vaccination is required for passengers 12 years old and older. For passengers over 40 proof of the booster vaccine is also necessary. Otherwise, they must present a negative PCR test taken within 48 hours. Food or beverages are not allowed on board.
Visit our page Machu Picchu Guide 2022 for more information on health and safety measures at Machu Picchu and on the Inca Trail.
Covid-19 Testing in Peru
ROE LAB
With locations in Lima. Appointments need to be coordinated through their web site.

SUIZA LAB
Offering tests with no appointment necessary, with locations in Lima, Chiclayo, Piura, Tarapoto and Arequipa. For more information, visit their Web site. This company also provides house calls to residences or hotels for an extra fee (40–50 soles).

UNILABS
With various locations around Lima and in Piura, Unilabs also provides services at Jorge Chávez International Airport seven days a week, with appointments available every 10 minutes, 5:00 am to 11:00 pm. Antigen test results take approximately 1 hour and molecular tests 12 hours. For more information, check their Web site.

Clínica Peruano Suiza
A reputable and reliable testing service by appointment in Cusco, it provides molecular Covid-19 test results accepted by international airlines. For more information, check their Web site.
Traveling beyond the pandemic
The situation and preventive measures related to COVID-19 are still fluid and subject to rapid modifications to keep pace with the pandemic. We will do our best to provide accurate, up-to-date information. We hope and pray that you take all precautions to stay safe and healthy, and that we can turn the page on Covid-19.
We are so excited to get back to what we love, showing off the remarkable culture, history and immense beauty of Peru. We remain committed providing amazing experiences, so that visitors go home counting Peru as the greatest and most memorable travel experience possible.
We look forward to a brighter future, and serving you.
You're going to love Peru!