Best Jungle Lodges in Iquitos: Full Week Combination 8 Days
---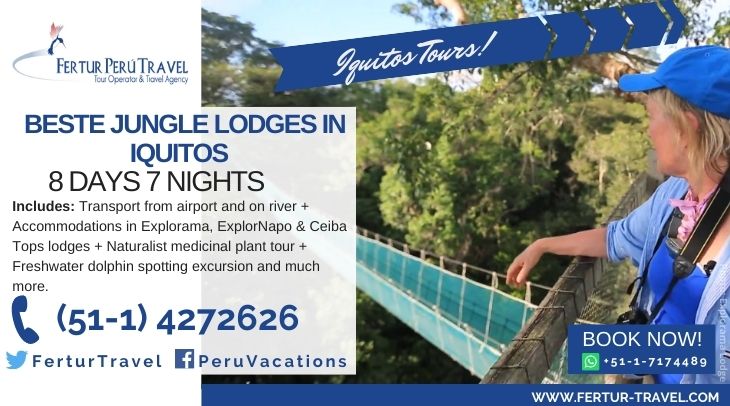 ---
A week-long jungle adventure that takes you to three of the Northern Amazon's finest and most interesting jungle lodges, with botanic naturalist tour and several wildlife sighting excursions. Amazing star gazing at the Southern Hemisphere sky while you spot caiman from moonlight reflected in their eyes. Wind down your trip with a classic Amazon Canopy Walk in the tree tops, and a visit with Yaganua indigenous community. Book now this jungle lodges in iquitos tour!
Includes:
Transport from airport and on river
One night in the hotel of your choice
Two night in Explorama Lodge
Two nights in ExplorNapo Lodge
Two nights Ceiba Tops Lodge
Naturalist medicinal plant tour
Freshwater dolphin spotting excursion
Night star gazing, caiman sighting boat excursion
Canopy Walk
Napo tributaries wildlife spotting excursion; fishing for piranha
Visit with Yagua indigenous community
English-speaking guides
Entrance fees
Prices available upon reques
Top Best Eco-friendly Lodges in the Jungle of Iquitos
Day 1: Iquitos
Arrival in Iquitos from Lima and transfer to your hotel. Overnight hotel in Iquitos.
Day 2: Iquitos – Explorama Lodge
Reception at your hotel and transfer to the Explorama dock. Eighty kilometer journey down the Amazon River to Yanamono Stream where Explorama Lodge is located.
Afternoon hike along the "Lake Trail" through lowland rainforest which is seasonally flooded. This trail is traversed by open boat during high ater months. Breakfast, Lunch, Dinner. Overnight in Explorama Lodge. (B/L/D)
Day 3: Explorama Lodge
Morning hike along the "Bushmaster Trail". Scientific studies by the Missouri Botanical Gardens have found one of the world's highest biodiversity of trees per square hectare. Your guide will point out many examples of native plants used as remedies by local people.
Afternoon canoe trip along the Amazon in search of either of the two species of freshwater dolphin found in the river. Breakfast, Lunch, Dinner. Overnight Explorama Lodge. (B/L/D)
Day 4: Explorama Lodge – ExplorNapo Lodge
After breakfast, a boat ride down the Amazon and up the Napo River to the ExplorNapo Reserve and ExplorNapo Lodge. Afternoon hike through primary, terra firme rainforest.
Evening excursion by open boat along the Sucusari Stream in search of caiman and to enjoy the night sounds and stars of the Southern sky. Breakfast, Lunch, Dinner. Overnight Explor Napo Lodge. (B/L/D)
Day 5: ExplorNapo Lodge
Morning hike to the Canopy Walkway, a suspended bridge spanning 500 meters, connected by tree platforms and reaching a height of over 35 meters above the forest floor. Here there is time to observe a part of the rainforest rarely seen by man but accessible without any type of climbing skill or equipment.
Afternoon excursion to a black water oxbow lake formed when water from the Napo River became separated from the main flow of the river. These lakes are often covered with giant Victoria Regia water lilies and can offer a view of the elusive Hoatzin bird. Breakfast, Lunch, Dinner. Overnight Explor Napo Lodge. (B/L/D)
Day 6: ExplorNapo Lodge – Ceiba Tops
Morning boating excursion along one of the Napo tributaries spotting for sloth, birding and fishing for piranha. Also a chance to visit some of the local river people called "ribereños" whose houses are seen along the river.
Afternoon boat trip back to Ceiba Tops where private rooms with electricity and air conditioning begin your return to "civilization".
On the return trip you will pass the town of Francisco de Orellana, where a statue is erected to the intrepid explorer who in 1542 at the mouth of the Napo River became the first European to see the Amazon River. Breakfast, Lunch, Dinner. Overnight Ceiba Tops. (B/L/D)
Day 7: Ceiba Tops
Morning visit to the neighboring Yagua Indian Community, an explanation of their native culture, blow gun demonstration and a chance to purchase or trade for their crafts.
Afternoon hike in the beautiful primary rainforest reserve surrounding Ceiba Tops where many huge trees are festooned in epiphytes. Breakfast, Lunch, Dinner. Overnight Ceiba Tops. (B/L/D)
Day 8: Ceiba Tops – Iquitos
Your choice of open boat ride or hike for the morning or a chance to relax in a hammock and enjoy the sounds of the surrounding rainforest.
Transfer to Iquitos by boat and bus to the airport for your departure to Lima. Breakfast, Lunch if departure flight permits.
? Due to the ever changing nature of the rainforest, day-by-day activities are subject to change due to weather, trail or river conditions. (B/L)
(B) Breakfast, (L) Lunch, (D) Dinner
---
Contact Us: Get a quote for this jungle lodges in iquitos tour
To book your Best Jungle Lodges in Iquitos 8 Days now or consult with us, fill out the "Contact Us" form to the right and a Fertur Peru Travel coordinator will contact you within one working day with detailed information about your fully customizable trip. Fertur Peru Travel's pledge is to offer you top-quality, individualized attention that starts with the planning of your trip and continues through your journey to guarantee a great vacation.
Go Back to Iquitos Tours