Huaraz 4 Days 3 Nights: The Perfect Four Day Itinerary
---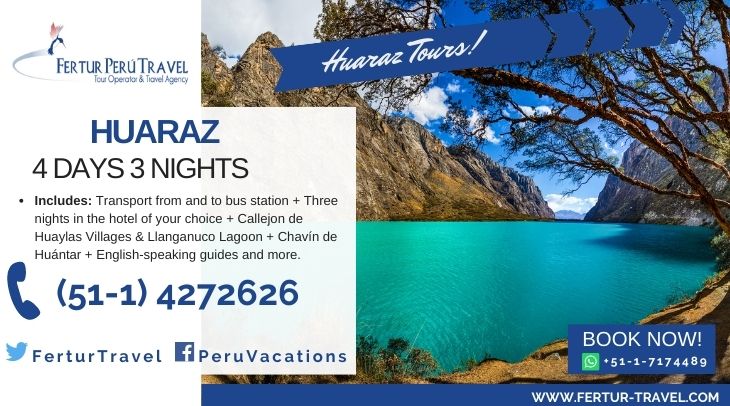 ---
Meet the villagers in the traditional communities that line Callejon de Huaylas valley, and relax on the high-altitude shore of the crystal blue Llanganuco Lagoon. Enjoy our travel programs in Huaraz 4 days.
Take a full-day excursion to tour the fortress temple ruins of Chavin de Huantar. And hike to the glacial slopes of Pastoruri Mountain. (Unfortunately, because of human-caused global warming, this once magnificent glacier has melted to a point where this trek is no longer possible.)
Includes:
Transport from and to bus station
Three nights in the hotel of your choice
Callejon de Huaylas Villages & Llanganuco Lagoon
Chavín de Huántar
Pastoruri glacier trek
English-speaking guides
Entrance fees
Prices available upon request
Huaraz 4 days: The best itinerary for your next trip
Day 1: Huaraz – Llanganuco
Reception. Transfer from the bus station to the hotel. Full-day excursion to Callejon de Huaylas. You will visit several villages, like Carhuas, Recuay, Caraz, Yungay. Next, you arrive at the Llanganuco Lagoon, here you will have a panoramic view of the nearby mountains, particularly the snow-capped peak of Huascaran. (L)
Day 2: Chavín de Huántar
Breakfast. Full-day excursion to Chavín de Huántar, the fortress temple with a labyrinth of tunnels and culverts built around 800 B.C. It is one of the oldest archaeological sites of Peru.
This excursion will also enable you to admire the wild beauty of the Andes, while passing by the Querococha Lake, crossing the Cordillera Blanca, and by driving through the high-mountain tunnel of Cahuish. (B/L)
Day 3: Huascaran National Park & Pastoruri Glacier Trek
Breakfast. Hike the slopes of the snow–capped mountain of Pastoruri. Setting out to Huascaran National Park, this excursion takes you through some of the world's most beautiful and unique mountain wilderness, with stops along the way for photos of the glacial peaks and the Puya de Raimondii plants — the strange giant bromeliads, native to only a few isolated Andean regions, which flower only once during their century-long life span and thrust up to 40 feet high (12m) from a rosette base of sharp spike leaves. Driving the switchback road over the Huarapasca Pass, you arrive at the parking area a little more than a mile (2km) from Pastoruri's glacial slope. The trek takes 30 minutes to an hour to reach the magnificent field of ice and snow, where you stand at an altitude of nearly 17,000 feet (5240m.a.s.l.) (B)
Day 4: Transfer Out
Breakfast. Free day. Nighttime transfer to the bus station. (Limited flight schedule to and from Lima also available.) (B)
(B) Breakfast, (L) Lunch, (D) Dinner
---
Contact Us: Get a quote for this Huaraz 4 days!
To book your Huaraz tours now or consult with us, fill out the "Contact Us" form to the right and a Fertur Peru Travel coordinator will contact you within one working day with detailed information about your fully customizable trip. Fertur Peru Travel's pledge is to offer you top-quality, individualized attention that starts with the planning of your trip and continues through your journey to guarantee a great vacation.