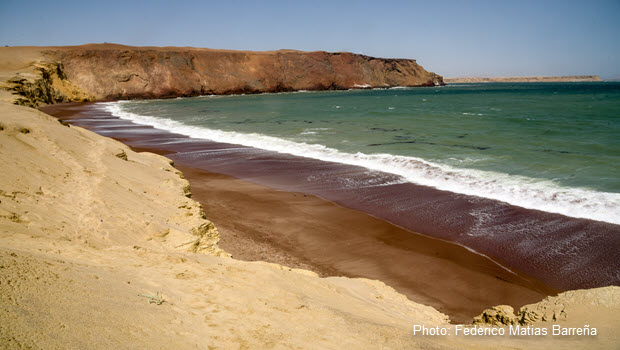 Red Sand Beach in Peru: Review of Playa Roja in Paracas
Peru is chock full of landscapes that are stunning in their exoticness: bright blue mountain lagoons, well-kept thousand-year-old ruins, floating straw islands. But an important one not to forget is Playa Roja, the red sand beach in Peru which you can find in the Paracas National Reserve.
The Red Sand Beach in Peru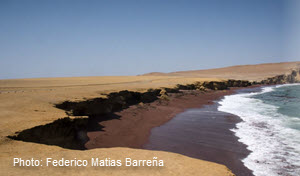 When the waves of the Pacific Ocean crash against the cliffs of Punta Santa Maria in Paracas, they pick up trace amounts of the red rock that makes up the cliff. Over time, the receding tide has deposited enough of those fragments to create a sandy beach of the same rusty, reddish hue. The result is beautiful, bordering on the otherworldly: the blue pacific waters passing over the deep red sands.
Where is Playa Roja?
Playa Roja is located about five hours south of Lima in the Paracas National Reserve, "where the desert meets the sea." Paracas has the unique climate of a tropical desert, and boasts some of Peru's most awe-inspiring vistas. The reserve is located near the town of Pisco, and not too far from Nazca (home to the famously enigmatic Nazca Lines) and Ica (the gateway to Huacachina, where one can enjoy sandboarding and dune buggies). In other words, Paracas and the surrounding area are well worth the visit, especially if you are captivated by the thought of Playa Roja!
Visiting Paracas and the Red Sand Beach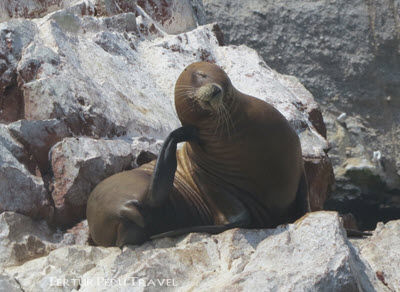 While the Red Beach is one of the main Paracas highlights, the entire reserve is full of similarly impressive flora and fauna. It's home to nearly 200 species of fish, and even more species of birds — not to mention the nearby Islas Ballestas (Crossbow Islands), which are home to sea lions, dolphins, penguins, and whales.
We offer a full-day Paracas tour from Lima that departs early in the morning and offers a tour of the Islas Ballestas and the Paracas Reserve, as well as a guided tour of the Julio C. Tello museum, which has an abundance of information and artifacts about the ancient cultures that inhabited the area. Here's some more information about the Full Day Paracas Tour.