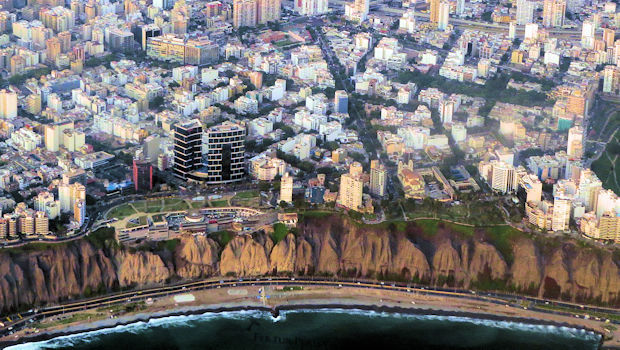 Top 10 Things To Do in Miraflores
Since its founding in 1857, the district of Miraflores has become one of Lima's most popular and cosmopolitan neighborhoods, offering dozens of tourist attractions. The options of fun things to do in Miraflores are vast. With its gorgeous oceanfront parks, delectable culinary scene, and fascinating history, the neighborhood is a must for any traveler visiting Lima. Here are our top ten points of interest to visit in Miraflores (not counting the Fertur Travel Agency office, which is obviously our very favorite).
#10. Eco-Feria de Miraflores (Farmers Market)
Every Saturday from 8am to 2:30pm, Parque El Reducto in Miraflores holds a large farmers market where you can find the freshest fruits and vegetables in town, a tasty breakfast or lunch, and handmade goods and products. So, if you're you're staying in a hotel in Miraflores wondering, "where is there fresh, organic food near me?" here is a place to spend part of a lazy Saturday afternoon.
#9. Amano, Pre-Columbian Textile Museum
This museum houses an enormous variety of textiles and ceramics from pre-Columbian and pre-Incan cultures. If you're interested in architecture or history when you visit Lima, this museum is a can't-miss in Miraflores!
#8. Faro La Marina (La Marina Lighthouse)
Built in 1900, this 22-meter tall lighthouse overlooks the Pacific Ocean from its perch on the malecón in Miraflores. It's a lovely sight, especially on a sunny summer day in Lima.
#7. Lugar de la Memoría (Place of Memory)
This museum, just completed in 2015, is a sobering exploration of the violence that shook Peru to its core between 1980 and 2000. It has been widely applauded for its equanimous approach to an era that remains a sensitive topic among those who lived through it.
#6. Miraflores Artisan Market
This enormous complex of artisan shops is the perfect place to buy souvenirs to take back to your friends and family — or just browse! Besides handicrafts, you'll find beautiful clothing and art, all made by hand.
#5. Parque del Amor (Love Park)
Located on the oceanfront, this park is an ideal place to relax, enjoy an ice cream, and take in the beauty of the Pacific Ocean. It's best known for its centerpiece statue, El Beso, which depicts its sculptor, Victor Delfín, kissing his wife.
#4. Playa Waikiki (Waikiki Beach)
Just a quick trip down to the ocean, Playa Waikiki is a great place to dip your toes in the ocean, lounge on the sand, or try out surfing lessons. There are several surf schools that offer classes. The waves and beach conditions are suitable for beginners. Tip: After enjoying the beach, walk over to Rosa Nautica for a refreshing mid-day ceviche.
#3. Parque Kennedy (Kennedy Park)
Parque Kennedy is the geographical, political, and social heart of Miraflores. Located adjacent to the Miraflores Town Hall and Parroquia La Virgen Milagrosa (one of the neighborhood's main churches), the park is also a stone's throw from dozens of restaurants and bars. Parque Kennedy is a great first stop to make in Miraflores, where you can orient yourself and say hello to one of the dozens of cats that roam around the park.
#2. Larco Mar
Larco Mar is a high-end shopping mall built into the side of the cliff that overlooks the ocean. Pretty impressive, right? With an art gallery, a movie theatre, stores of every variety, and several restaurants, you could spend hours here without getting bored. Tip: Grab a cocktail at Tanta and enjoy while you watch the sunset over the ocean.
#1. La Huaca Pucllana
The last thing you'd expect to find walking around an upscale neighborhood like Miraflores is a towering 1,500-year-old pre-Incan ruin, but that's exactly what you'll find with La Huaca Pucllana (or La Huaca, as it's known by locals). Entry to La Huaca is only 10 soles (~$3 USD) and affords you a memorable way to learn about the people that inhabited the area long before even the Inca. The pre-Incan ruin includes seven adobe pyramids and clay platforms and is believed to have been used for religious ceremonies and as an administrative center.
Are you interested in a tailor-made private tour of Miraflores?