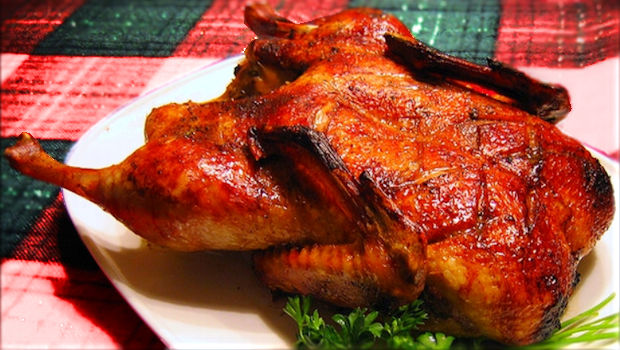 Thanksgiving Turkey Recipe: Pisco Peruvian Style
American Thanksgiving isn't celebrated widely in Peru, but the concept of feasts and celebrations akin to el Dia de Acción de Gracias has been prevalent in Peru since before the arrival of the Spaniards. So why not give Thanksgiving dinner a Peruvian twist? Thanks to zoylaM, we have a juicy Thanksgiving turkey recipe that will add some Peruvian flair.
Thanksgiving Turkey Recipe: Peruvian Style
This recipe uses many ingredients that you would typically find in a turkey prepared for American holidays, but adds some key Peruvian ingredients: aji amarillo (a spicy orange pepper), aji panca (a Peruvian chile paste), and most importantly, Peruvian pisco.
Ingredients
21-pound turkey

3 tbsp minced garlic or crushed garlic paste

1 tbsp ground ají amarillo (Peruvian yellow chile)

4 tbsp ají panca (Peruvian golden brown chile paste)

1 tbsp dried oregano

1 tbsp rosemary

2 oz. pisco

2 tbsp soy sauce

1 1/2 cups red wine or cooking wine

2 tbsp yellow mustard

1 cup orange juice

1/2 lime
4 tsp salt, plus more to taste

1 tsp pepper, plus more to taste
Directions
Step 1: After removing the inner parts of the turkey, wash it lightly with water and "scrub" with the half of lime. Pat dry with a paper towel.
Step 2: Cut off a little bit of the excess skin near the neck of the turkey. Use the knife to create space between the skin and the meat. Transfer turkey to metal tray.
Step 3: Use a baster to squirt 1/2 cup of white wine under the turkey skin.
Step 4: Combine garlic, ají amarillo, ají panca, rosemary, dried oregano, 4 tsp of salt, 1 tsp of pepper, soy sauce, mustard, remaining 1 cup of wine, and 2 ounces of pisco in a small bowl. Mix well, then add orange juice.
Step 5: Use the mixture to baste the inside of the turkey, including under the skin, and cover the outside of the turkey with the mixture as well.
Step 6: Cover turkey and tray in tin foil and marinate for one day in the refrigerator.
Step 7: Remove from refrigerator one hour before cooking, so the turkey can return to room temperature. Preheat oven to 400F/200C.
Step 8: Cook turkey in oven for one hour at 400F/200C, then lower temperature to 350F/175C and cook for 15-20 minutes per pound. Remove from oven, let cool for five minutes, and enjoy!
Serve up this succulent, juicy turkey recipe to your guests and you'll have them asking, "When is thanksgiving day in Peru?"
Not a turkey fan? Try this recipe for Peruvian-style rotisserie chicken, or "pollo a la brasa."