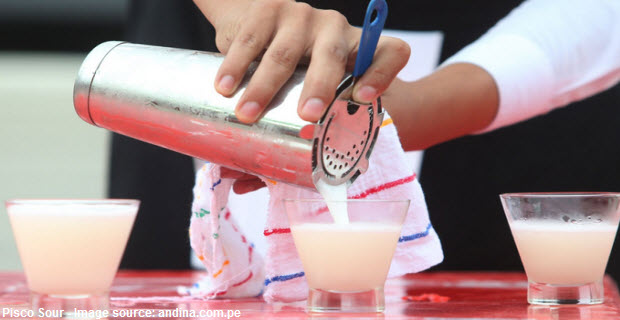 Traditional Pisco Sour Peruvian Cocktail Recipe
Peru's love affair with the lime starts with ceviche and continues in its potent, refreshing national cocktail, the pisco sour.
This drink is a source of patriotic fervor and a perennial point of contention in the country's strained relationship with its southern neighbor Chile.
Peru is the birthplace of the grape brandy pisco, named after the Peruvian coastal town of Pisco.  Peru also lays claim to the pisco sour. Chile disputes these bragging rights, and contends Pisco originated on its soil.
Neither country has a sense of humor about the issue. As an example, the Peruvian customs form warns "any drink with the name "pisco" that does not originate from Peru, will be confiscated."
The recipe for the drink is a simple matter of ratios:
3 parts pisco

1 part lime juice (use key limes)

1 part sugar syrup
Add an egg white and ice and blend. The result is a frothy white foam on top, with a lime tinged yellow concoction underneath. A few drops of angostura bitters complete the drink. It's a bracing start to a long, relaxing lunch, or a wind-down drink at the end of the day.
Pisco (that is to say, real Peruvian pisco, not the inferior swill exported by Chile) can be hard to find outside of Peru, so if you fall for this cocktail, don't forget to pick up a bottle or two at duty free once you've gone through immigration on your flight home.