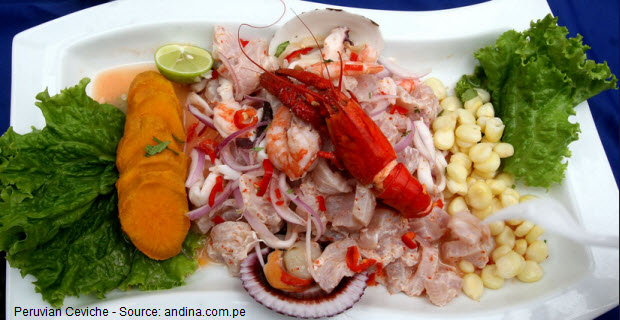 Ceviche is the pride of Peru and the national dish. Fresh fish "cooked" in lime juice, onion and chilies and served with sweet potato, toasted corn "cancha" and salsa criolla (see below), the dish can feature a range of white saltwater fish, or a mixture of mollusks, scallops, octopus or squid, and there are even delicious vegetarian versions, using mushrooms and soy.
The light, sharp taste of ceviche is extremely popular, and the quality of the dish is seen as the measure of any restaurant.
Leche de Tigre is a drink made from the liquid left over from a serving of ceviche. Its strong acidity and the protein punch from the fish is seen as a powerful hangover cure and aphrodisiac.
Recipe:
Ingredients:
1 lb (500g) flounder, sea bass or other firm white fish fillets
Red onion, finely sliced
Red aji limo (small red chilies), chopped into thin strips
Aji amarillo, (yellow chili) chopped fine
Juice of 8 key limes
Salt to taste
Cut the fish into small chunks and mix with onion in a bowl. Wash the mix well in cold water, then season with the aji limo, aji amarillo and salt. Toss the mixture in the lime juice, adding a few ice cubes to freshen the fish, but take the ice out before it melts. Serve immediately with boiled corncobs known as "choclo," boiled sweet potato and lettuce. (Some people leave the fish to cure in the lime juice for anywhere between 15 and 45 minutes in the fridge before serving.)