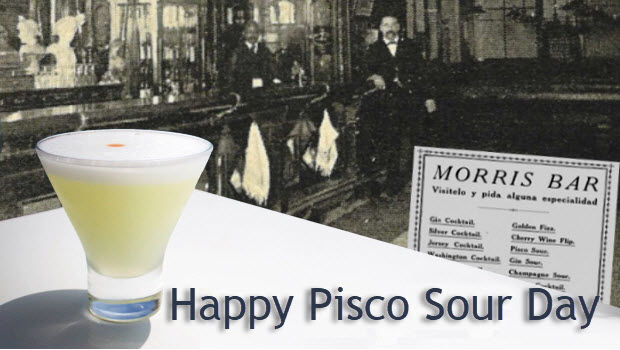 Happy National Pisco Sour Day!
Let's everyone raise a glass to toast Peru's signature cocktail on this first Saturday of February: National Pisco Sour day.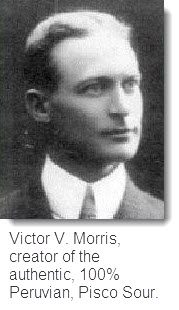 The tradition was born 17 years ago, the brainchild of journalist Virginia Rey-Sanchez, her friend and mentor Raul Vargas, the voice of Radioprogramas radio, and publicist Gustavo Rodriguez. Eloy Cuadros, head barman of the legendary Maury Hotel bar, provided the "official" recipe.
It was the expat American Victor V. Morris who is now widely acknowledged as having invented the ingeniously delectable concoction in 1916.
Originally, it consisted of pisco grape spirits, Peruvian lime juice and sugar syrup. The addition of egg white and a dash of Angostura bitters were innovations added in the 1920s.
The history of Morris' bar can be found in articles by historian Guillermo L. Toro-Lira, originally posted on the piscopunch.com Web site.

The bar was a favorite watering hole for a who's who of archaeologists, aviators, journalists, diplomats and politicians between 1916 and 1929.
The names jump off the pages of the MORRIS' BAR VISITORS REGISTER, found just a few years ago by Morris' grandson, Michael Morris:
Rafael Larco Hoyle, founder of the Museum Rafael Larco Herrera, Alfred Louis Kroeber, cultural anthropologist from the University of California Berkeley who worked with Julio C. Tello (and the father of Ursula le Guin); Roger W. Straus, a millionaire and president of board of directors of the American Smelting Company; Elmer Faucett, founder of the Faucett Airline Company; José R. Lindley and son, makers of soda beverages and future creators of Inca Kola; Juan Ramón Montero, the first aviator to fly from Lima to Pisco; newspaperman C.N. Griffis, director of the West Coast Leader and founder of the Andean Air Mail & PERUVIAN TIMES, among others.
Scholars, adventurers and rogues alike partook in the earliest version of the iconic alcoholic beverage, now so ubiquitous throughout Peru.
Gen. Dean Ivan Lamb, an aviation pioneer and infamous soldier of fortune, discovered Pisco sours in the Morris Bar in 1922.
"I never learned what the liquid was derived from, but from personal experience believe it a triple distillation of nitroglycerin," he later recalled in his memoir, The incurable filibuster.
"In Morris' Bar I ordered a pisco sour. It tasted like a pleasant soft drink and I ordered another, to which the bartender objected informing me that one was usually sufficient. After an argument he made another — from that time events were not very clear but I have hazy recollections of an argument about another one, something of a fight in a Chinese restaurant, police, soldiers, more battles and crowds of people; waking in the hotel with a guard of soldiers holding off people with bills for damages."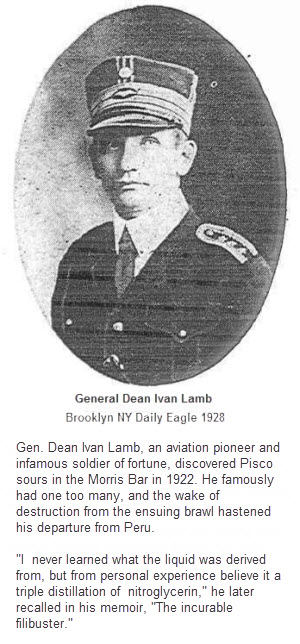 Lamb scrammed out of town and headed for higher ground, at the urging of Augusto Leguía Jr., the eldest son of Peru's then-authoritarian president. Lamb arrived by rail to Puno, two miles above sea level on the shores of Lake Titicaca, and quickly succumbed to soroche mountain sickness.
"The high altitudes interfered with my drinking, so I went over to Buenos Aires on the coast." Lamb told the Brooklyn Daily Eagle Newspaper in 1928.
The pisco sour is a source of patriotic fervor and a perennial point of contention in the country's strained relationship with its southern neighbor Chile.
Peru is the birthplace of the pisco grape spirits, named after the Peruvian coastal town of Pisco. Peru also lays claim to the pisco sour. Chile disputes these bragging rights, and contends Pisco originated on its soil.
Neither country has a sense of humor about the issue. As an example, the Peruvian customs form warns "any drink with the name "pisco" that does not originate from Peru, will be confiscated."
To help cement Peru's rightful claim of authenticity, the Commission for the Promotion of Peru for Exports and Tourism (Promperú), through Marca Peru, this week presented the brand "Pisco, Spirit of Peru" during the Madrid Fusión 2019, one of Europe's most most prominent gastronomic events.
Last year, Peru's National Institute for the Defense of Competition and the Protection of Intellectual Property (INDECOPI) distributed a pamphlet: Celebrate the 'Pisco Sour Day' with authentic Pisco.
The recipe for the drink is a simple matter of ratios:
3 parts pisco
1 to 2 part sugar syrup (sweetness to taste)
1 part lime juice (If you are in the United States, use key limes.)
Add an egg white and a cup of ice, blend vigorously and strain. The result is a frothy white foam on top, with a lime tinged yellow concoction underneath. A few drops of angostura bitters complete the drink. It's a bracing start to a long, relaxing lunch, or a wind-down drink at the end of the day.
Pisco (that is to say, real Peruvian pisco, not the inferior swill exported by Chile) can be hard to find outside of Peru, so if you fall for this cocktail, don't forget to pick up a bottle or two at duty free once you've gone through immigration for your flight home.
Note: Pisco is a distilled spirit, not a brandy because it is not stored in wood casks. Real pisco is stored in traditional mud-ceramic containers called "botijas" or in glass jugs.