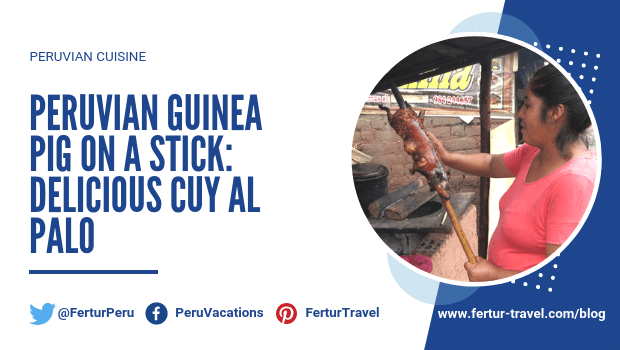 Peruvian Guinea Pig on a Stick: Delicious Cuy al Palo
While it may not be for the faint of heart, Peruvian guinea pig on a stick (also known as cuy al palo) has captured the attention of many. And understandably so — to Westerners, the delicacy is exotic, and something you would never find in the U.S. or Europe.
But before understanding cuy al palo, we must first look at plain cuy, or a simple roasted guinea pig. This alone may seem bizarre to Americans or Europeans, since they come from cultures that consider guinea pigs to be a house pet. In Peru, however, guinea pig has long been an abundant, nutritious, and delectable source of food.
"Nutritious" may sound like an odd word to describe a Peruvian guinea pig, but it's actually true. Guinea pigs have 20.3% protein per 100 grams, and are less than 8% fat. And they truly are abundant, too; an estimate from the Peruvian Chamber of Cuy, there are about 18 million guinea pigs in Peru.
Guinea pig is especially popular in cuisines from the Andes mountains, where there is less access to the seafood caught in the Pacific Ocean or the diverse array of plants available in the Amazon Jungle. In the absence of fish or jungle flora, guinea pig arose as a reliable source of protein and sustenance.
Peruvian Guinea Pig on a Stick
Skewering the cuy and roasting it over fire isn't a new way of cooking this fixture of Peruvian food. In recent years, though, it has seen a noticeable rise in popularity. This trend has been evident at Mistura, one of Latin America's largest food festivals, which takes place in Lima every year.
Chief among Mistura's vendors of Peruvian guinea pig served in this unique way are Moisés Cerf and Ana Meza, a couple from the Cusco region who sell the special treat through their restaurant, which boasts the unforgettable name Cuyassic Park.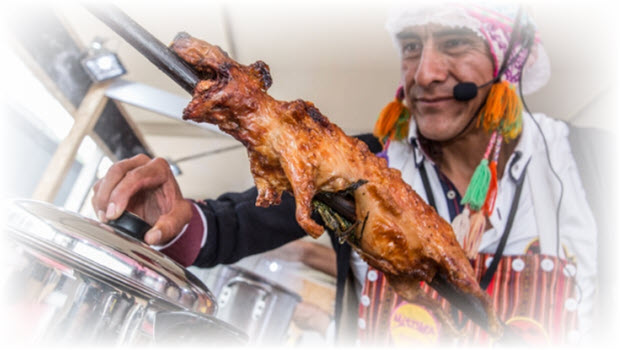 It's only natural that a beloved restaurant serving guinea pig on a stick hails from the Cusco region, as it is a mountainous region where the dish is very popular. (If you're ever in Peru and wondering where to eat guinea pig in Cusco, you'll be glad to know you have lots of options!)
Cuyassic Park, like any good restaurant, has its own special recipe. They season their guinea pigs with plenty of salt, stuff them with a mixture of herbs, then — after roasting them over the fire — pour a dressing on top.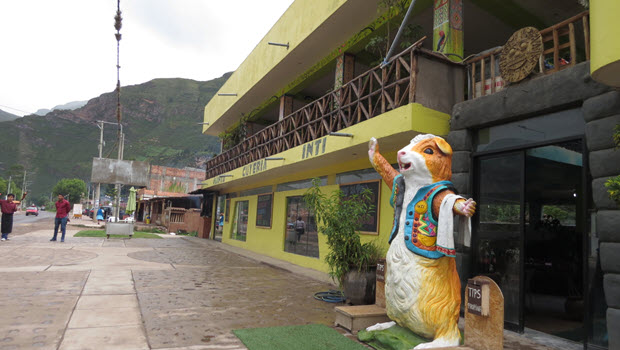 They aren't the only restaurant offering their unique take on cuy at Mistura, either. In the enormous festival, you can find cuy risotto, cuy kabobs, fried cuy, and stuffed cuy. There are more ways to prepare guinea pig than you had ever imagined!
Peruvian Food
It's understandable if the idea of eating a guinea pig is a little beyond the pale for you, especially if you ever owned one as a pet. So it's worth mentioning that Peruvian gastronomy really is some of the best in the world, regardless of whether you're a little squeamish at the dinner table.
In our Peruvian Cuisine section, you can learn about the many other facets of the country's food scene, from the finest ceviches and seafood dishes in the world to the unparalleled fusion with Chinese and Japanese cuisines. We invite you to check out our stories, tips, and recipes on one of the world's best cuisines.
After all, if you do make a trip to Peru, you would be missing out if you didn't take advantage of the diverse gastronomic offerings. Causa, pollo a la brasa, rocoto relleno — there's something for everyone, and it's all delicious.
But we do recommend trying the Peruvian guinea pig on a stick if you're visiting the country. It may be your only chance to ever try it! So, let us know in the comments: would you dare try this exotic delicacy?