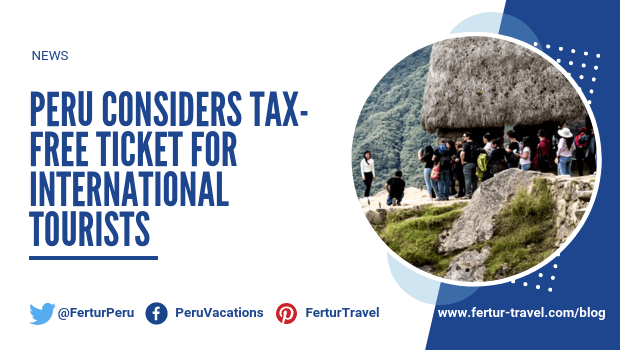 Peru Considers Tax-Free Ticket for International Tourists
Peru's Ministry of Foreign Trade and Tourism (Mincetur, by its Spanish acronym) has announced that it is working on designing a program that would exempt foreign travelers from paying sales tax in Peru.
Tourism is an enormous industry in Peru —- the third-largest, behind fishing and mining — and this move would aim to increase the number of tourists who visit the South American nation and incentivize them to spend more money while traveling.
Mincetur estimates that the tax-free ticket would, on average, increase spending by $500 USD per foreign tourist, tremendously benefiting artisans, restaurant owners, local tour operators, and others that rely heavily on foreign tourism for their incomes.
Accordingly, the proposal has support from the direct beneficiaries of the tourism industry, as well. Heddy Espinoza, president of Apotur (Peruvian Association of Operators of Receptive and Domestic Tourism), praised it for how it would "produce higher consumption."
Espinoza also applauded the proposal on its probable introduction of more foreign currency into the Peruvian tourism economy.
The way the tax-free system would work is relatively straightforward: Mincetur would have an office in Peru's airport where, on the way out of the country, international travelers would be able to turn in their receipts from their trip and receive a reimbursement for the sales taxes they paid.
There are still some pieces to be put in place before the tax-free ticket can be made official. Primarily, Mincetur has to establish the infrastructure to manage the program, which includes the surprisingly tricky task of finding a place in Lima's Jorge Chavez Airport to house an office.
---
You Might Also Like: Luggage storage at Lima's Jorge Chavez International Airport
---
If (or when) Mincetur does get the tax-free program into place, it will be just one more excellent
reason to visit Peru
. Though, with countless natural and manmade treasures, strong touristic infrastructure, and a world-famous food scene, we're not sure you even need another reason to visit!