Hilos y Colores featured on Enlace Nacional
Hilos y Colores (Threads and Colors), the Ayacucho artisan cooperative run by husband and wife team Meche Yauri and Faustino Flores, is featured here by Enlace Nacional.
Meche and Faustino founded Hilos and Colores 15 years ago to help their rural home community of Vinchos, which was hit particularly hard in the 1980s and early 1990s by political violence. They, like many of their neighbors, were forced to flee the cross fire of government security forces and Maoist Shining Path guerrillas, settling in the city of Ayacucho, the provincial capital.
You Might Also Like: 3 Day Adventure Tour in Ayacucho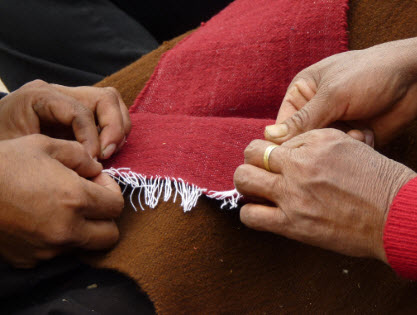 Both extremely talented artisans, the couple decided to share their knowledge of art with women's groups to help rebuild their war-torn community. They offer technical assistance and training in washing, spinning, dyeing, and weaving to provide work and extra income to the women.
The export quality shawls, sweaters, blankets and stuffed animals they produce are sold in their boutique on Ayacuchos' main plaza, in a colonial mansion, downstairs from ViaVia Café & Hotel (Portal Constitución 4 Plaza de Armas).
Hilos and Colores also works closely with our friends from Maki International.