Empowering the Women of Ayacucho Through Sustainable Enterprise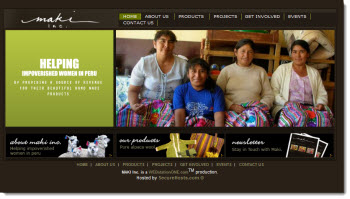 WhenI first arrived in Peru in 1996, I went to Ayacucho, where I taught journalism as a guest lecturer at the National University of San Cristóbal de Huamanga, and English in the university's language institute. There, I struck a close and lasting friendship that continues today with another teacher, Marisol Chancos Mendoza.
Marisol had only recently returned to Ayacucho herself in 1996. Her family moved to Lima after they were caught like so many others in the crossfire of the political violence that ravaged Ayacucho during the 1980s and early 1990s.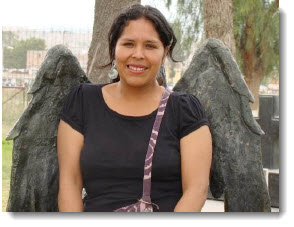 Marisol dedicated herself to social programs during her free time. When I met her, at 21 years old, she ran an English program at the prison and volunteered at a women's shelter.
Over the years, her commitment increased, and she worked as a liaison for international aide agencies, created and ran new programs and managed groups of volunteers from abroad.
In 2009, Marisol and Martha Dudenhoeffer, of San Diego, California, formed Maki, a non-profit foundation designed to empower some of the most vulnerable women of Ayacucho through enterprise. Marisol had only recently returned to Ayacucho herself in 1996. Her family moved to Lima after they were caught like so many others in the crossfire of the political violence that ravaged Ayacucho during the 1980s and early 1990s.
The word "Maki," which means "hands" in the ancient Quechua language, symbolizes the women's potential for sustainable income generation by using their own hands, as well as potential for others to lend a "hand" in allowing the women to do so.
Today, Maki provides a structure for creating, exporting, and selling the goods and handicrafts made using the women's existing talents and traditions. Maki also helps to make improvements to the facilities used by the women and offers courses in skill development, basic business practices, and self-esteem building.
Maki's Target Groups of Women Include:
Rural Mother's Groups
Throughout Ayacucho, there are "mother's" groups, particularly in the rural areas. Currently, Maki works most closely with one group centered at the home of two talented artisans, Meche and Faustino Flores Meneses, who provide training and moral support to the group. Many of the women are single mothers trying to provide for their children. The rural communities from which they come lack markets for their goods, so they are forced to live almost entirely on subsistence farming. Maki seeks to expand operations to include additional Rural Mother's Groups.
Incarcerated Women (and Their Children)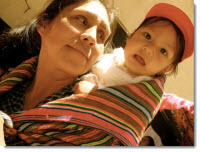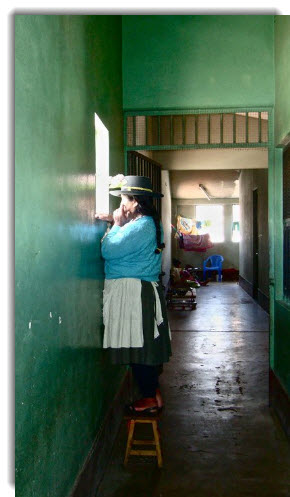 Many of Maki's knit goods are made by women residing in the Yanamilla prison in Ayacucho. The facility holds about 1400 inmates, approximately 160 of whom are women sentenced or charged pending trial, in most cases for drug smuggling.
Most of the women are from impoverished rural highland communities or the Amazon jungle and were sought out by drug cartels to transport semi refined cocaine paste. The prison allows female inmates to keep their children with them until they reach the age of 3. But prison conditions are spartan, and the children lack proper nutrition, health care and adequate early childhood education.
Maki contracts directly with each woman and pays them individually. Maki also aims to support these children, both by providing income opportunities for their mothers and by improving conditions and education opportunities.
The Women's Emergency Center
The Women's Emergency Center is a resource location for women who are victims of domestic violence. Maki holds courses twice weekly in knitting. The goal in the Emergency Center is to offer the women an environment of solidarity and camaraderie, while also providing them with opportunities for income. Maki seeks to expand its courses and offerings in the Emergency Center.
Direct income generation opportunities
Maki offers income generation opportunities to the women of Ayacucho by providing a source of revenue for their handmade products, particularly knit goods. Women's groups at the prison, as well as the Rural Mothers Groups and Emergency Center organize themselves with help from our directors to fulfill Maki's order requests. Maki provides the raw materials needed to produce the goods and pays the women in Fair Trade wages for completed products. The revenue from the products pays for the work, raw materials, shipping, marketing and import costs.
In the United States, Martha runs Maki International, a 501(c)(3) non-profit business that imports the products from Ayacucho, including women's apparel, home decor, and baby knits every few months. Maki's products are then sold at several boutiques in San Diego, California, on the Maki website, and at parties and events. Maki is currently looking to expand its sales in other markets.
Skills Training
Maki also provides courses and training in knitting as well as other craft work and income generation opportunities. Though many of the women of Ayacucho are skilled in craft work and knitting, many more are not or are not at the level necessary to produce export quality goods. These courses aim to develop and perfect those skills among the women.
Beyond knitting in craft work, Maki seeks to provide other skills courses in order to diversify opportunities for women in Ayacucho. Recently, Maki conducted a solar cooker–making workshop for women in the prison. This not only provided them with a functional and renewable appliance for cooking, but was also intended to inspire entrepreneurial work around solar cookers – and other simple appropriate technologies – among the women. In rural areas, in particular, alternatives to firewood are of great value – because women spend significant time collecting fuel – so with exposure to constructing alternative technologies, women have the opportunity to create small enterprises around solutions like the solar cookers.
Self-Esteem And Empowerment Courses And Programming
Many of the women in Maki's target groups have experienced great hardship and find themselves invulnerable states – victims of domestic abuse, the atrocities committed during the conflict between the Shining Path and Peruvian security forces and/or extreme poverty. They need income, but more importantly, they need to discover a sense of purpose and empowerment in order to be successful in providing for themselves and their families. For this reason, Maki is organizing classes and workshops aimed at augmenting self-esteem. These programs vary in topic from inspirational lectures, to group counseling and discussion, to aerobics and dance, to health and nutrition.
Maki also organizes special events and parties in celebration of holidays and achievements. These events boost morale among the women and encourage hope in their circumstances and effort in their work.
Facilities Improvements and Provisions
At the prison, Maki is working to improve the conditions of the living and work spaces for the incarcerated women. The current spaces are substandard, with as many as 11 women living in a small cell, often with their children. Maki has already made improvements to the workspace by providing a large shade structure, as well as the living space by adding two toilets, and more projects are in the planning stages. Most critically, Maki is working to improve the conditions of the "play area" for the children who live in the prison. If conditions are brought up to an acceptable standard, the public education system will send a teacher there daily to educate the children.
Future Goals
As Maki looks toward the future, a priority is the creation of the Centro de Mujeres de Maki (CMM) or the "Maki Center for Women" (described below in "How You can Help"). Having a space in Ayacucho where women can congregate, do work, take courses, attend lectures and seek counseling allow for a sense of safety, belonging and hope for many disheartened women. Housed at the Center, skills and empowerment programs will become a focus of the Maki offerings. Finally, the CMM would encourage more Maki international volunteers to come to Ayacucho. The CMM would provide a space for volunteers to stay and work, while imparting their help and expertise of the local community.
Maki's Impact So Far
Provided 80 incarcerated women, 20 women from the Emergency Center, and 25 women in rural cooperatives with fair trade work opportunities
Offered knitting classes at the Emergency Center for Abused Women and the prison
Improved substandard prison facilities through construction projects such as a shaded outdoor workspace, new bathrooms, etc., for 180 women and their children
Enhanced the quality of life for women by sponsoring events such as James, Mother's Day festivities, and holiday parties
Imported and sold products in Southern California boutiques, at parties and on our website generating $12,825 in sales for 2009
Provided support for 20 children living in prison with their mothers by improving their space to allow for a full-time teacher and by supplying educational materials, toys, and clothing
Trained 30 women in constructing solar cookers as alternatives to firewood and potential future sources of income
Hired three local employees to manage operations in Ayacucho and administer training.