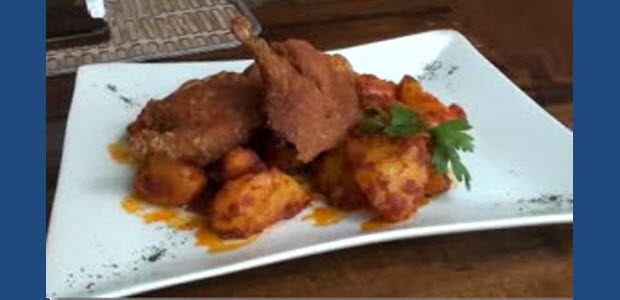 UK TV host roasted at home for eating traditional guinea pig dish while on vacation in Peru
Cultural relativism takes on goofy dimensions in an age of celebrity Tweet-casted vacations.
As I write this, British Morning Show TV presenter Phillip Schofield is at 40,000 feet in an airplane somewhere over the Atlantic. He's heading home to England after vacationing in Peru. Perhaps he's now passing through customs in Madrid, making his connecting flight.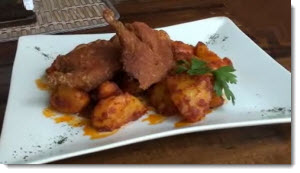 We know about his travel plans because he live "Tweeted" to his 1.9 million followers just before boarding the plane.
We also know from his Twitter account that when he arrived in Lima, it was to join is wife, Stephanie. She had just completed a trek of the Inca Trail with their daughter, Ruby, who had to return back to England for school before her father's arrival.
Ruby and Stephanie's hike had the dual purpose of raising funds to benefit the Chiltern Centre for disabled children in Henley.

With that accomplishment behind them, and Ruby back in England, the couple embarked on a classic southern circuit tour of Peru, which — if the Tweets are an indication — was a great success.
With giant condors soaring overhead, they admired the incredible panorama of the Colca Canyon in Arequipa.
"What a stunning country"
The scenery was no less amazing on board the Andean Explorer train from Puno to Cusco. Although, the Andean pan pipe music blaring during the 10-hour journey definitely grated on nerves. It prompted a tweet to Orient Express, and some excruciatingly comic running commentary.
"It's so loud @OrientExpress even iPod & headphones won't shut it out & the lovely staff seem unable to make the torture stop!! "
"RT @1CheekyChappy: @Schofe @OrientExpress Do I detect a new Murder On The Orient Express? Exactly!!!"
"@Schofe @OrientExpress the man behind you is asleep!!!!!!!!!!!!!!!!! Nope, killed himself 2 hours ago"
"Arrived in Cusco with Pan Pipes a distant memory! Dinner in a minute, Machu Picchu tomorrow! What an adventure"
The couple opted for an even more luxurious train to get from Cusco to the ancient Inca Citadel:
"One of world's great train journey's! The Hiram Bingham to Machu Picchu! Easier than trekking ;)"
Waking at 5 a.m. the next morning, the Schofields watched the sun rise over the iconic mountain ruins.
"Unforgettable."
Despite digital immediacy, it's the nature of our technological age that a story comprised of Tweeted snippets unfolds at an O. Henry-like pace. So, let's get to the point.
From Schofield's tweet-casted narrative, there were any number of highlights that his fans could have focused on back home in England.
Try for starters that Stephanie Schofield used her Inca trail trek to raise, as of this writing, £3,714.00 for disabled children!
But instead, what infuriated many of his followers, and, more remarkably, reportedly drew the ire of an animal rights group, was the fact that he and his wife sampled a traditional roasted cuy, or guinea pig, for lunch.
"Animal Aid director Andrew Tyler told the Daily Mirror: 'This callous provocation is despicable.'"
"One Twitter user asked: 'Just because it is eaten in Peru doesn't mean YOU have to eat it. Would you eat a dog in China just because they do?' Schofield, whose former sidekick Gordon the Gopher made him popular with fans, responded: 'Why not?'"
Why not, indeed.
Hyper-sensitivity on the part of British people who ostensibly view guinea pigs as pets, and the consumption of guinea pigs as barbarism, is understandable, to a point.
It is worth noting that guinea pigs were domesticated in Peru as far back as 2500 B.C. and here, in the land of the rodent's birthplace, they remain a culinary delicacy, as well as a mainstay of Andean folk medicine.
What I find shocking is the reported reaction from the director of Britain's largest animal rights organization. What provocation was Andrew Tyler referring to?
Peru has its share of animal abuse issues, but the treatment of guinea pigs isn't one of them.
Guinea pigs generally are not raised in inhumane conditions of mass production. Rather, they are bred mostly "free range" on farms and in rural peasant kitchens, on a diet of alfalfa, corn husks and other vegetable scraps.
[Cuy is actually delicious, and it doesn't have to be staring back at you from the plate]
If Animal Aid wants to do some good, it could team up with one of Peru's animal rights organizations, like Vida Digna, which fights an uphill battle to educate pet owners to have their dogs wormed, vaccinated and spayed or neutered.
Yesterday was the first day of the bull fighting season at Lima's historic Plaza de Acho, the second oldest bullring in the world. It was met, as it is every year, with protests by Peru's "Antitaurinos" (or anti-bullfighting) movement, which seeks to ban what it considers a senseless and cruel blood-sport.
I'm sure the Antitaurinos would welcome support from animal rights activists in the United Kingdom.
If you like this post, please remember to share on Facebook, Twitter or Google+