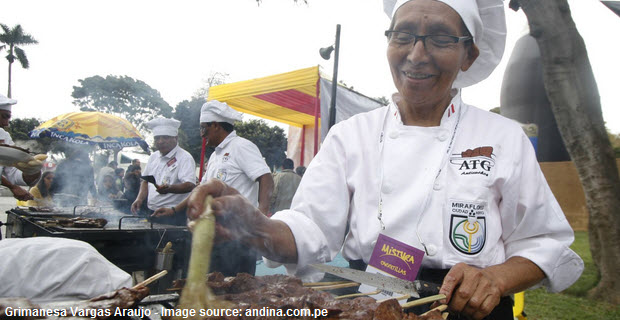 Where to find delicious anticuchos in Lima
Update: Grimanesa Vargas Araujo now has her own restaurant.
Dying to try some real local street food in Lima, but worried about the consequences? Here's a way to enjoy a  mainstay Peruvian dish that won't have you regretting it the next day.
One of the most beloved food stalls in the capital  is La Esquina de la Grimanesa, the Corner of Grimanesa, at the  corner of Enrique Palacios and 27 de Noviembre, Miraflores. It's a few blocks, about 15 minutes walk or a short taxi ride, from Parque Kennedy in the heart of Miraflores, Lima's seaside tourist district.
The stall is a one woman show run by Grimanesa Vargas Araujo, who's been selling anticuchos here for 30 years. The grilled beef hearts on skewers are marinated in vinegar, garlic, cumin and chili, and they're an Afro Peruvian favorite. Some travellers balk at the idea, or the texture.. but if you're game, it's a spicy snack, served with choclo, a large-grained, savory corn.
Grimanesa or Tia Grima has become something of a mini-celebrity, earning a prominent mention in a recent Washington Post article on Lima's burgeoning culinary reputation.
7:00 pm to 11:00 pm every day except  Sundays. Cash only.
This map shows the way to the stall.