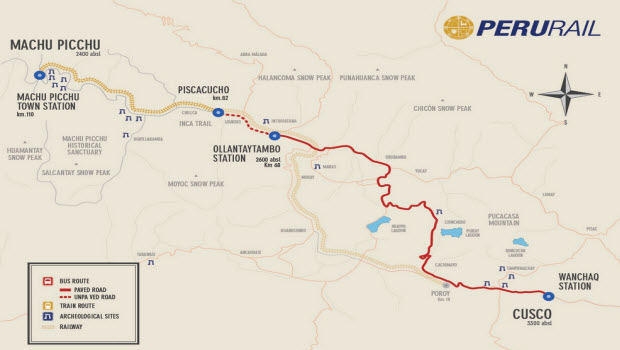 Train schedules announced ahead of April 1 Machu Picchu reopening
PeruRail formally has announced its provisional train schedule from Cusco to Machu Picchu set to begin March 29 — two months after torrential rain caused widespread flooding and landslides, destroying much of the rail line when the adjacent Vilcanota River transformed into a raging torrent and overran its banks.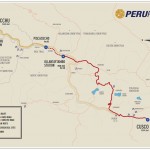 IMPORTANT: The rail carrier noted that even though its rail service is set to resume on that date, Peru's National Institute of Culture, the government agency in charge of Machu Picchu, has announced that admission into the Inca citadel will only be possible starting April 1.
In a statement released Monday, PeruRail said it plans to resume operations in two phases.
Stage I: Starting March 29, 2010
The company will only operate its Autovagon car, and not the Backpacker train, which requires a locomotive to pull it. The rail concessionaire, Ferrrocarril Transandino S.A., imposed the limitation, PeruRail said, because of concerns about the weight of the locomotive on the recently rebuilt track.  (The Autovagon cars weigh 28 tons, while the locomotives weigh 90 tons).
According to the schedule, PeruRail buses would depart the Wanchaq Station in the city of Cusco at 6 a.m., arriving in Piscacucho in time to board an 8:10 a.m. Autovagon, and arrive to Aguas Calientes/Machu Picchu at 9:31 a.m.
The return  train from the Aguas Calientes station would depart at 3:20 p.m., with arrival back in Cusco at approximately 7 p.m.
PeruRail said it would coordinate with travel agencies and tour operators to ensure that travelers who booked less expensive Backpacker and Backpacker Cerrojo tickets in advance have access to available seats on the Autovagon services,  but "at the price that corresponds to the time available."
The train company said its fare will include Bimodal services (bus + train) from Cusco and Ollantaytambo with transfer in Piscacucho (km 82), where the trail head to the classic four-day Inca Trail is also located. Getting to Machu Picchu via that route will entail traveling from Cusco by road to Ollantaytambo and then continuing on to Piscacucho, where passengers would walk eight to 10 minutes to board the train. From there, it will be an 81-minute ride to Aguas Calientes.
The premier class Hiram Bingham service will not be available during this first phase of operations, but PeruRail said it is evaluating alternate luxury services to offer high-end travelers before July, when the Hiram Bingham is expected resume direct Cusco-Aguas Calientes service.
Stage II: Tentatively set to begin May 1 (to be confirmed)
At this stage PeruRail plans to operate Autovagon service, as well as regular carriages pulled by locomotives (including the Backpacker trains).
---

For its part, Inca Rail SAC announced Monday that it would be running three trains between Piscacucho and Aguas Calientes/Machu Picchu starting April 1.
Piscacucho – Machu Picchu

Train #          Departs Piscacucho            Arrives Machu Picchu

41                          06:55                                     08:08

43                          11:35                                     12:57

45                          17:08                                     18:58

Machu Picchu – Piscacucho

Train #             Departs Machu Picchu        Arrives  Piscacucho

42                          08:30                                      09:58

44                          15:10                                      16:51

46                          19:25                                       20:53
Inca Rail said it will also offer its passengers free bus service from Ollantaytambo to Piscacucho, departing 75 minutes before the trains leave.



Inca Rail bus departures from Ollantaytambo to Piscacucho:
Bus Departs             Train Departs        Train Arrives
Ollantaytambo        Piscacucho           Machu Picchu

05:40                           06:55                       08:08

10:20                            11:35                       12:57

15:53                            17:08                        18:58
Inca Rail noted for its passengers that there will be a 180-meter walk from the bus parking area in Piscacucho to the point where they will board the trains.
The rail carrier recommended that travelers avoid carrying much baggage, to wear comfortable walking shoes and bring along a jacket or rain wear.