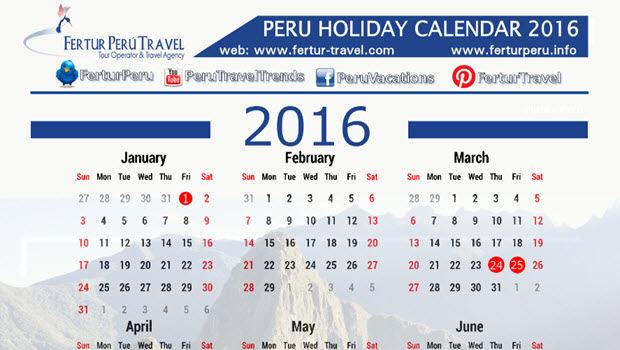 Peru 2016 holiday calendar – Download
Download this practical 2016 calendar with Peru's national holidays and observances circles and marked in red. It's available in PDF and PNG formats.
Print it out on a A4 bond paper and have it on hand to plan your Peru vacation.
We will update this calendar with all government-declared holidays and long weekends as soon as they become available. These non-working days apply only to public sector workers in order to boost domestic tourism.
Why should you care about these, you ask? Well, those dates translate to days when many government offices will be closed, when they otherwise should have been open.
Peru also has a very large public sector, and when those folks travel, it can mean greater demand on bus and air fares. So, if you're interested in those dates, plan and purchase your tickets early.