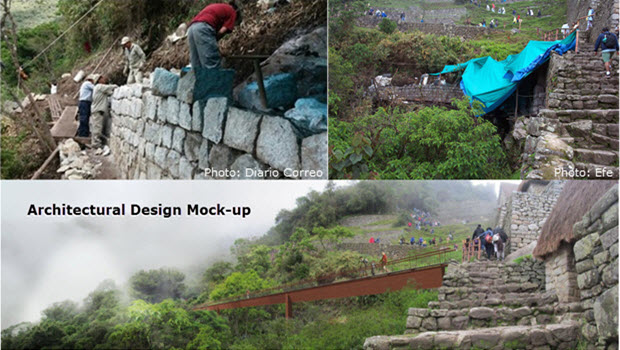 Reconstruction at Machu Picchu begins, starting with exit ramp
Authorities at Machu Picchu have started construction of an exit ramp from the Inca citadel to help regulate the increasing flow of visitors.
Masons are now laying an extra base of hewed granite stones to support what will be an 85-foot-long bridge out of the iconic ruins.
"Taking advantage of the walls, an exit route is being opened for tourists that will be 26 meters long," Machu Picchu Park Director Fernando Astete said in a written statement. "The work is being done utilizing contemporary materials, in accordance with the approved architectural  project."
Astete added that the exit ramp is designed to blend in as much as possible with the topography and design of the ancient Inca citadel. It will be adorned with vegetation and have a hard  clay walking surface, he said.
"This project will be presented to the technical mission from UNESCO, which will arrive next January," he said, "and when it is put into service, it will alleviate crowding at the control  point and entrance into Machu Picchu since all tourists will exit from this new route to the omnibuses."
For years, UNESCO has urged Peru to build the exit ramp to ease congestion within the World Heritage site, along with a bevy of other recommendations that have been included in a 2015-2019 Master Plan.
Since 2011, the average daily number of visitors to Machu Picchu has far exceeded the daily limit of 2,500 agreed to by Peru and UNESCO.
A government-commissioned study in August reportedly showed that Machu Picchu can handle up to 5,940 visitors per day as long as Peru implements infrastructure improvements and spreads out the flow of tourists as prescribed in the Master Plan.