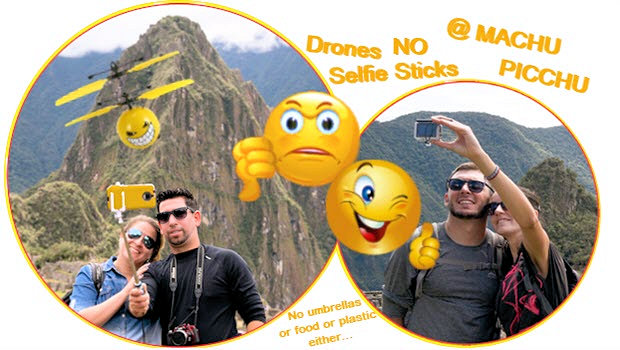 No selfie sticks or drones at Machu Picchu, seriously
The new director of Machu Picchu wants visitors to know, selfie sticks, umbrellas and especially drones are strictly prohibited — for real. Heading into 2020, the rules will be enforced.
"Machu Picchu is a fragile place," said José Bastante, who took over administration of the sanctuary this past April. "It is a World Heritage Site that must be respected and that we all have the right to experience but we also have the right and obligation to protect it."
Bastante's appointment marked the retirement of Dr. Fernando Astete after decades in the post.
As UNESCO put it, Astete was considered "the Guardian of Machu Picchu," devoting his life to the preservation, conservation and research of the historic sanctuary. Since 1994, Astete oversaw and worked with hundreds of interdisciplinary and international scientists and researchers to map more than 37,000 hectares that encompass the Machu Picchu national park, discovering and documenting ancient roads, buildings, settlements and several archaeological sites.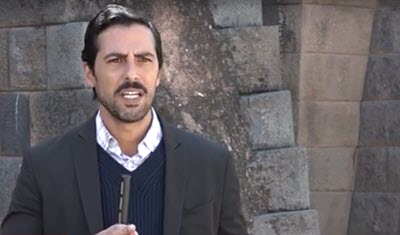 Bastante was one of those professionals, in charge of archaeological and interdisciplinary research at Machu Picchu in the Ministry of Culture. Taking the mantle, he is showing that he intends to be no less of a guardian of Machu Picchu.
In a video message recently posted by the Ministry of Culture in Cusco, Bastante stressed — repeatedly — that Machu Picchu park officials will be actually enforcing the new rules that have gone into effect over the last two years.
"Visitors who do not comply with the prohibitions stipulated in the regulations will be expelled immediately without the right to a refund for their ticket," he said. "Depending on the severity of the case they could be subject to a complaint to the national police and the prosecutor's office."
Selfie sticks, tripods and umbrellas are forbidden, he said.
"The pathways are narrow and in many cases the flow of visitors is broken," Bastante said. "We have already had cases where there were accidents both with the selfie sticks and umbrellas and other stabilizer equipment that a large number of tourists previously brought in."
Machu Picchu Camera Restrictions
He said anyone who wishes to take professional photos or capture film or video with professional equipment must first obtain a permit from the Ministry of Culture in Cusco. (That is an administrative process that must be handled in person at the Ministry of Culture's headquarters in Cusco that we have some experience expediting with some great results: The highest resolution photo of Machu Picchu – 16 Gigapixels.)
No food can be brought in.
"It is prohibited to cause commotion or to shout or jump or run within the sacred space of the Machu Picchu Sanctuary," Bastante also said.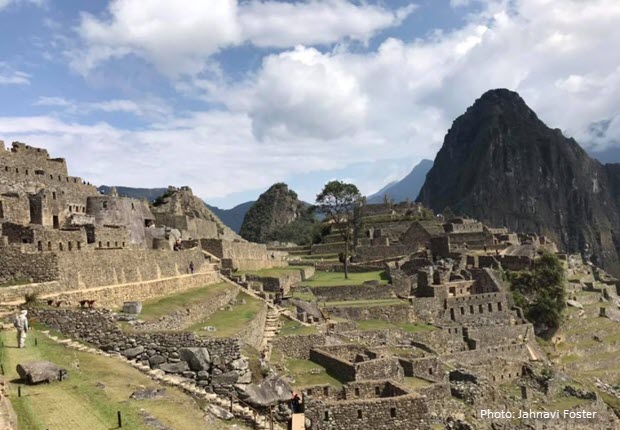 Any aircraft — "manned or unmanned" — from helicopters and paragliders to palm-sized drones are also strictly banned over the entire territorial limits of the Historic Sanctuary and National Archaeological Park of Machu Picchu, he added.
Once a visitor has finished the maximum four-hour route through Machu Picchu and exits, "you can not re-enter unless your ticket includes Machu Picchu Mountain or Huayna Picchu, which are alternate routes."
In the video, Bastante went over several of these points more than once, perhaps for emphasis, or perhaps because they were retakes that did not make it onto the cutting room floor during a final edit.
He also left some of the more glaring infractions that have kept park guards busy over the last few years, like No Smoking or Vaping Anything and No Nudity.
"There are numerous other prohibitions both with regard to objects and behavior that are stipulated in the visitors rules," he said, directing the public to visit the Ministry of Culture's web site.
Or you can just keep reading to see the full list…
Official Visitor Rules for Machu Picchu :
Visitors to Machu Picchu are not allowed to:
Carry backpacks, bags or handbags larger than 16 x 14 x 8 inches (40 x 35 x 20 cm). Items that exceed these dimensions must be deposited in the cloakroom storage outside the entrance.
Enter with food and/or utensils.
Enter with any illegal substances or under the influence of any illegal drugs.
Enter with any type of alcoholic beverage or in a state of inebriation.
Carry umbrellas or parasols. (Caps, hats and raincoats are allowed.)
Carry tripods, monopods or extensions for cameras, cell phones or any other stabilizing equipment or extension for filming and/or photography, unless authorized by the Department of Culture of Cusco (DDC Cusco).
Enter with animals, except for guide dogs when strictly necessary.
Enter with any type of aerosols.
Enter with any type of musical instrument, megaphone or speakers.
Use virtual applications with cell phones or mobile devices along any narrow arteries, trails and points of congestion (the use of such technology is allowed only in large open spaces and designated explanation areas).
Enter with heels or hard-sole shoes (entrance is allowed only with shoes or sneakers that have soft or rubber sole).
Enter with baby carriages or strollers (only baby backpack carriers with non-metal frames are allowed).
Enter with sharp instruments and/or weapons of any kind.
Enter with banners, posters and/or placards, among other objects of this type. (The use of pennant are allowed exclusively for tour guides leading groups of at least 5 visitors and are limited to the model and dimensions determined by competent authorities in coordination with the respective guides).
Cause disturbances, hop, jump or generate disorder along the entry path to the Machu Picchu Sanctuary and/or at any point within the complex.
Enter with clothing intended for advertising purposes.
Climbing or leaning on walls and/or structures.
Touch, move or extract lithic elements.
Perform any type of graffiti.
Disturb, collect or extract native flora or fauna and/or cultural elements.
Carry out activities that distort the sacred character of the Machu Picchu Sanctuary, such as fashion shows, dances and social engagements, ceremonies of any kind.
Enter with portable stools or seats, among others.
Enter with trekking poles with metallic or hard tips (Canes and poles are allowed for use by elderly people or people with obvious physical handicaps, and in general as long as they have rubber tips).
Carry out any type of activity that implies the impairment or deterioration of the Machu Picchu Sanctuary, its natural environment and/or facilities.
Obscene acts contrary to morality and good manners.
Undress, wear costumes, lie down, run and/or jump.
Smoking or vaping.
Make loud or annoying noises such as clapping, screaming, whistling, singing, among other actions, because it disturbs the tranquility and the sacred character of the Machu Picchu Sanctuary.
Make any kind of fire.
Dispose of waste of any kind.
Disrespect the established circuits and routes.
The commercial sales in the interior of the Sanctuary of Machu Picchu and spaces the Puente Ruinas bridge.
Feed the domestic and wild animals of Machu Picchu Sanctuary.