Pirates in Peru and the Lima DVD dilemma
The viceroys of colonial Lima lived under constant siege by some of the most infamous pirates and privateers of that era: John Hawkins, Thomas Cavendish, Jacques L'Hermite and Sir Francis Drake.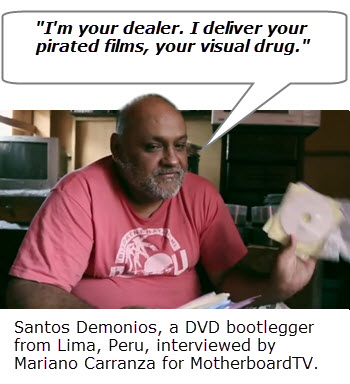 Fast forward to the modern digital age and you'll find Peru has pretty much succumbed to the new breed of pirate.
A far cry from the high seas buccaneers, some of these outlaws view themselves as champions of culture and promoters of information for the masses. 
These pirate merchants sell just about any movie or TV series you could want — from recent Hollywood blockbusters and golden age classics, to obscure Cannes Indy flicks.
If  your hotel didn't have On-Demand and you wanted to watch The Sea Hawk, the 1940 Errol Flynn film, inspired by Francis Drakes' exploits, no problem.
Hitchcock, Fassbinder, True Crime, Downton Abbey…  you can find those, too. Just ply the stalls at the Polvos Azules shopping center, located in a somewhat dicey section of the city, two blocks up from Peru's judicial headquarters, the Palace of Justice. If the marble lions on the justic palace steps appear anemic, that's because they are — at least where criminal enforcement and sanctions for copyright infringement is concerned.
The unbridled proliferation of pirated goods in Peru costs the economy about $600 million a year, according to Peru's National Institute for the Defense of Competition and the Protection of Intellectual Property (INDECOPI).
For a revealing peak at this not-so-underground world, and the people who populate it, watch this documentary segment by Motherboard.  
"When a regular consumer in a third world country, with an emerging market and a thirst for knowledge, can't access it, it's a power struggle between the ones who have access and those who don't," says Santos Demonios, the DVD bootlegger featured in the Motherboard piece. "So, at the end of the day, I'm a promoter of culture. That's the idea, to spread culture and democratize knowledge.
""I'm your dealer," he says. "I deliver your pirated films, your visual drug."
You can decide which of Demonios' metaphors more adequately describe his trade: promoter of culture and democracy or petty criminal, satisfying the Peruvian consumer's Jones for low-cost digital media.
If you like this post, please remember to share on Facebook, Twitter or Google+