Hilos de Chinchero: traditional Cuzco weaving
Less than an hour from the Inca capital Cusco is the historic, windswept town of Chinchero.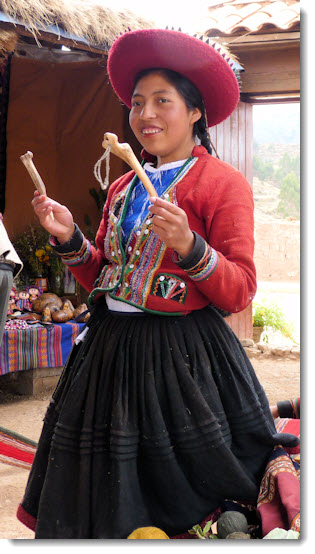 Besides the Inca ruins and beautiful colonial church, Chinchero is also world renowned for its textiles. To show off their woven wares, the artesans of Chinchero in recent years have opened about a dozen sustainable tourism weaving workshops.
The purpose of these "cottage industry" textile centers is to offer visitors a free demonstration of the traditional methods used to wash, dye, spin and weave alpaca and sheep's yarn into magnificent wall hangings, rugs and garments.
The final products are on display for sale.
The use of  alpaca and sheep's wool and natural dyes  represents a return to authentic, traditional methods, which until about 25 years ago had been largely replaced in Cusco's highland communities by synthetic yarns and chemical powder dyes.
One of these workshops, a block from the town center, is the Centro Textil Andina — Kuska Away Yachak.
The first part of the name, translated from the Spanish, means Andean Textile Center. The second part is Quechua for Learn to Knit Together.
Here, Sthefany Huanca recently explained the traditional process passed down to her from earlier generations.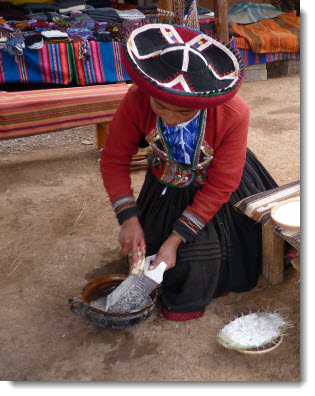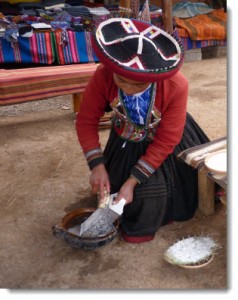 She started with saqtana tree root, an odorless, natural detergent that for centuries has been used in Chinchero to wash  sheep and alpaca wool.
The root is stripped of its brown outer layer, revealing a white stalk, which she grated with a cheese grater into water and left to soak for several minutes. She then strained the soapy mixture through a bed of dried grass to remove any bits of the root.
Raw alpaca wool is usually washed two or three times in the saqta liquid, she explained.
There are an abundance of natural dyes used in Chinchero to color the finished product: Chílka leaf for green tones, Cólli Flower for yellow tones, and Cochinilla, a parasitic insect that thrives on the tuna (prickly pear) cactus.
Cochinilla has a deep blood-red color. But when diluted with additives that change the pH level, like Peruvian lime juice, salt or other natural ingredients, it can take on up to 24 different tones, Sthefany said.
The wool is boiled for 30–60 minutes and hung to dry for 2 days before it is spun into yarn and woven into fine tapestries and garments.
This is just a glimpse of the presentation and doesn't come close to experiencing the real thing in person. Contact Fertur Peru Travel for information about a Cusco vacation that includes an excursion to Chinchero.
Weaving traditional Chinchero textiles:
Note: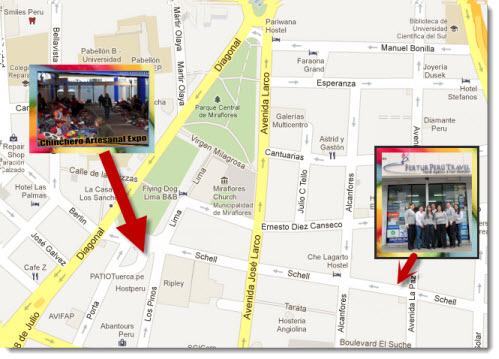 If you're in Lima and didn't get a chance to visit this high Andean town, there is a Chinchero Artesanal Expo taking place today in Miraflores, across from the Kennedy Park.
If you like this post, please remember to share on Facebook, Twitter or Google+