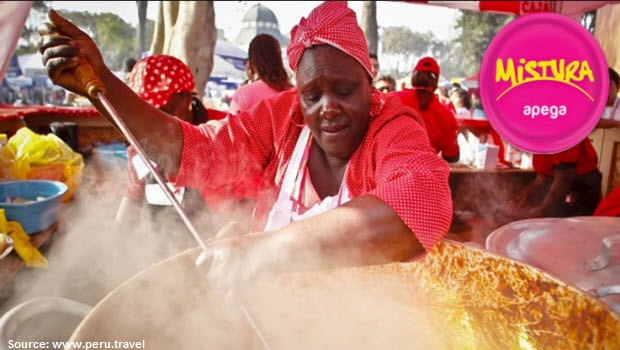 Mistura 2011 – Peruvian cuisine at its finest – with hotel pickup
US$35 (Price per person, including Mistura 2011 Entry Ticket, pickup from hotel and transfer back)
If you're a foreign traveler visiting Peru and you're going to be in Lima between September 9th and the 18th, and if you love great food, then check out this offer:  Experience Mistura 2011, the gastronomy fair.
This mouth-watering food fair is, by far, the biggest culinary event in Peru, bringing together the most prestigious and popular representatives of Peruvian cooking.
Don't wait too long if you want to go. It's been reported that 75% of the tickets have already been sold in pre-sales.
For $35.00 you'll be picked up at your **hotel and brought to the Mistura culinary fair in the Parque de la Exposición in downtown Lima. The service includes your Mistura entry ticket, preferential entry without waiting on line outside the gate, a guided visit to the principle attractions and return transfer to your hotel (consult with us about drop-offs at other points).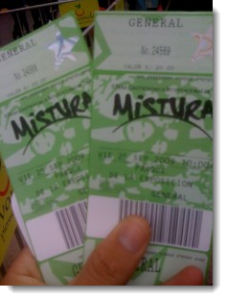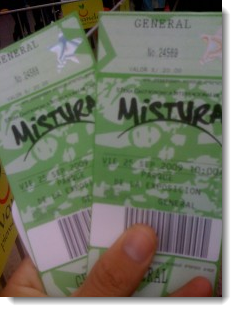 At Mistura you'll encounter the finest cuisine from various regions of Peru.  all the best of our food and of course will be accompanied by peasants who exhibit symbolic inputs and outputs of our Amazon, Andes and Peruvian coast.
You'll enjoy the best of our coffees, breads, chocolates and traditional drinks such as Pisco and Chicha, variety of cooking contests with thousands of students and lovers of the kitchen listening to the keynote speeches, music, dances, films, lectures and round tables , souvenirs and all the warmth of the promoters of Mistura 2011.
Important: Subject to availability.
[symple_tabgroup] [symple_tab title="Contact Us Inquiry"] [/symple_tab] [symple_tab title="Tour Includes:"]
• Pick–up from all the **hotels in Miraflores, San Isidro, and Lima.
• Admission ticket to the Mistura fair.
• Special entrance to the Mistura fair (no queues).
• Guided tour of the main attractions inside the fair.
• Transfer back to the hotel.
[/symple_tab] [symple_tab title="Price"]
Price: US$ 35.00
[/symple_tab] [symple_tab title="Important!"]
• Tour does not include price of food or drink offered at the fair.
• Prices in US dollars.
• Departure 11:30 hrs
• Return 16:30 hrs
• Meeting point to return to your hotel, "Puerta 5"
• Waiting tolerance 15 minutes.
• Rates are non-refundable.
**Consult with us about your pickup and drop-off points if they are not at a hotel in Miraflores, San Isidro or Lima.
[/symple_tab] [/symple_tabgroup]