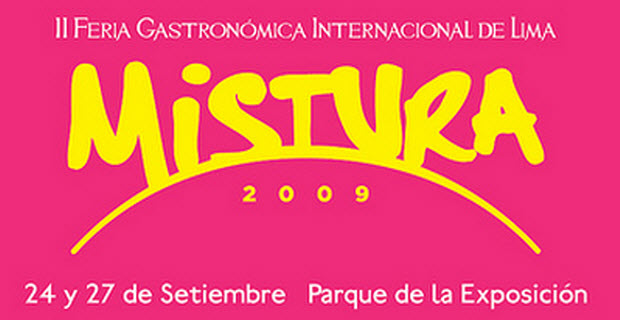 Mistura 2009 – Peruvian cuisine at its finest
The second edition of this gastronomy fair was beyond all expectations.
If you were in Lima from Thursday, Sept. 24 to Sunday, Sept. 27, and you were not informed about Mistura, the gastronomy fair that brought together the most popular representatives of Peruvian cooking, then you lost an incredible opportunity to taste the most spectacular dishes from Peru in a single place.
Last Friday at around 4 p.m., I arrived to "Parque de la Exposición" in downtown Lima, and after buying a couple of tickets for me and my wife for 20 soles each (around $7) we entered the fair, with lots of expectations … and empty stomachs.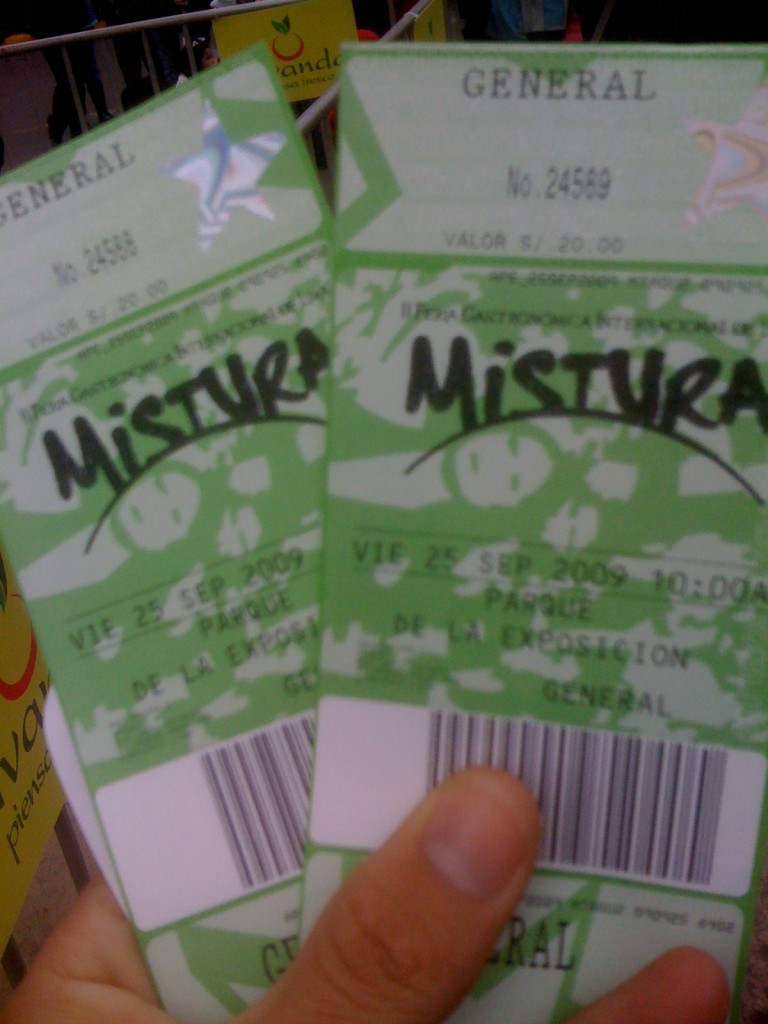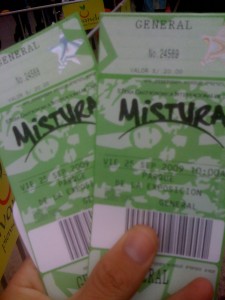 Right after entering we were taken aback by the variety of stands offering all kind of professional cooking appliances, captivating cooking books and videos from the top Peruvian chefs, as well as special offers from the top gastronomy institutes in Lima.
However, we had a clear objective: To eat.
So we headed right to one of the many food courts. There, a long line of more than 50 people attracted our attention; they were all waiting for their turn to taste the most delicious anticuchos, pancitas and rachis from Lima, the ones from Panchita's food stall. A similar situation could be found at Grimanesa's food stall, a lady who has been selling anticuchos for more than 30 years (you can usually find her at the corner of Enrique Palacios and 27 de Noviembre, Miraflores).
We decided to stay at the line, not before buying some seafood: "Choritos a la Chalaca" and "Chicharron de Calamar" from "Sonia" and her enchanting boat-like food stall, and a yummy passion fruit-mango juice from "Las Delicias." Thirty  minutes later, a mouth-watering dish from Panchita's and a happy pregnant lady in front of it (my wife) made a perfect Kodak moment.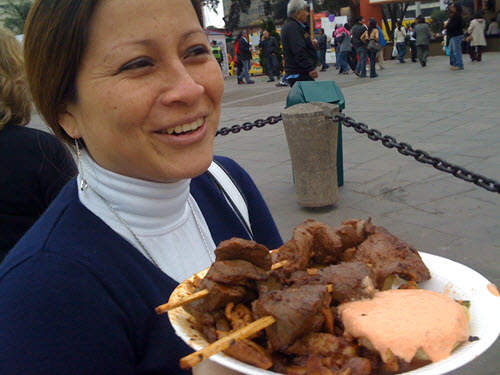 Fully satisfied, we headed to "the big market", a place gathering merchants of natural products from all over Peru. There we enjoyed watching the wide varieties of peppers, cheeses and potatoes from all the country.
It started to get really cold, so we decided to make another line (luckily not so long as the one we made for the anticuchos) to buy a couple of hot "emolientes" at "Siete Mezclas". I tried one flavored with "aguaymanto" and my wife asked for the classic "7 roots."  Needless to say they were both delicious.
While enjoying our emolientes, we headed to the conference center where we enjoyed learning how to prepare an "Octopus Mosaic" with the top Spanish chef Joan Roca, and a complicated "Priprioca Scented Milk Pudding" with the top brazilian chef Alex Atala.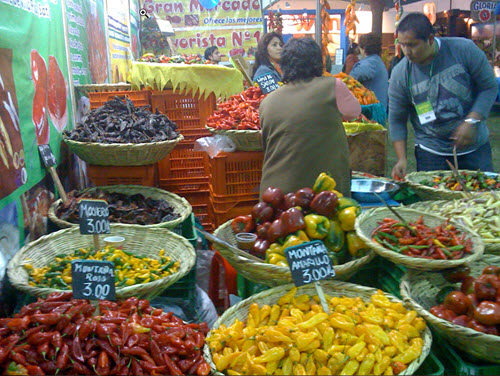 Hungry again, we decided to go to the "Mistura Courtyard," were the elite restaurants from Lima where offering gourmet dishes four times cheaper than their regular prices. "Ceviche Chiclayano de bonito con cangrejo" from "Fiesta," "Rigatoni alla boscaiola" from "Dei Pratti," spectacular "churros" from "La 73" for my wife and a marvelous glass of "Maracuya Sour" from "Huaringas Bar" for me, enjoyed while listening to fabulous musicians playing Peruvian music. It was one of the most delightful afternoons of this year for us both.
Of course we missed several conferences and we couldn't try as many dishes as we wished, but we hope next year we can separate a complete free day just to enjoy everything this fair has to offer. It is definitely worth going.
Mistura attracted around 200,000 visitors during the four days it lasted, way more visitors than organizers initially expected. By Saturday, all tickets were already sold. It has become, by far, the biggest culinary event in Peru.