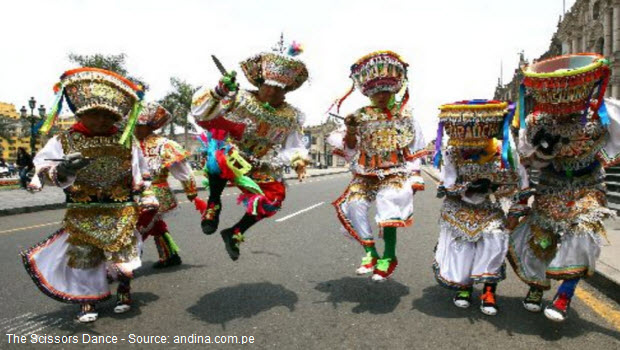 Sept. 8 presentation on progress of new Scissor Dance documentary
Our favorite documentary filmmaker Mitch Teplitsky, director of Soy Andina, and Peruvian filmmaker Gaby Yepes, director of Danzak, will be at the Lima Clubhouse of South American Explorers next Wednesday to offer a presentation on their new project about Scissors Dancers.
Sustainable tourism student Yaneth Cisneros will also offer a presentation on her recent pilgrimage to Ayacucho, the birthplace of her parents, who migrated to Lima in the 1980s to escape political violence.  What she discovered there will inspire you.
Wednesday, September 8, 6:30 – 8:00 pm

BEYOND THE GUIDEBOOKS: JOURNEY TO AYACUCHO
With photos and video clips from a new film-in-progress about Scissors Dancers

South American Explorers Club
Calle Piura 135, Miraflores
Free to members, $1 or 3 soles for public

Ayacucho is a remarkable region in the Andes, yet rarely visited by tourists. Tonight, a report from two long-time friends of the Club:

Part I:  Northern Ayacucho
Sustainable tourism student Yaneth Cisneros returned to the birthplace of her parents after 13 years. She traveled to Huananga, Pampa de la Quinua and Cangallo to reconnect with a traditional way of life still alive in the 21st century.

Part II:  Southern Ayacucho
Filmmaker Mitch Teplitsky ("Soy Andina") is back from Andamarca and Puqio, shooting footage of Scissors Dancers at the annual Fiesta de Agua. It's the first stage of a new movie, in partnership with Peruvian filmmaker Gaby Yepes (who will also be in attendance).

More info:  Events Coordinator Nicole Ackerman, nacker136 @ gmail. com