Hidden treasures in plain sight in Lima: Manuel Pariachi
Strolling through downtown Lima in the afternoon, the din of traffic was drown out by a piercing melody and alluring rhythm from a finger picked steel string guitar.
It was live music, but sounded so much like a 1920s phonograph, I could have been listening to a folk song  captured by Alan Lomax on an Edison recorder.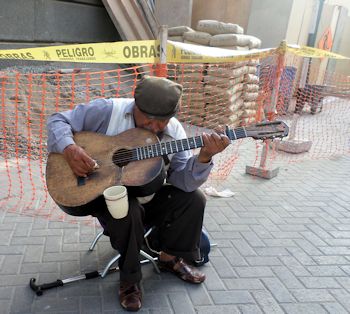 Sitting on a low, aluminum folding stool was  72-year street musician, Manuel Pariachi. His chin was pressed against the guitar, which he sang into like a microphone. It was a microphone, he explained. A salvaged telephone handset mouthpiece was mounted inside the guitar cavity with screws and a piece of bent wire.
A squiggle of wire protruded through a hole on the top side of the instrument, which Pariachi sang into. two white wires ran from another puncture in the back of the guitar, just below the neck, to a makeshift amplifier consisting of a single plastic speaker. That was powered by a motorbike battery inside a tattered backpack.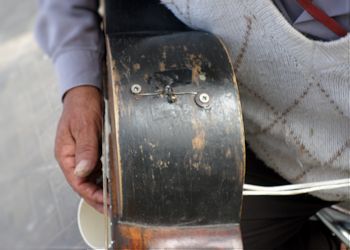 The speaker looked like it had been manufactured sometime in the 1990s, given its design; It clearly had been cheaply produced and was obviously resurrected from a junk heap.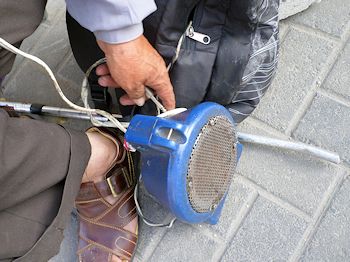 A plastic collection cup hung with more wire from the guitar's sound hole. I put a few soles into the cup and stood listening.
Pariachi said the song was from his central Andean homeland, Huancayo. He migrated to Lima 40 years ago, but said he was, and always would be "Huancaíno"  in his heart.
If you like this post, please remember to share on Facebook, Twitter or Google+