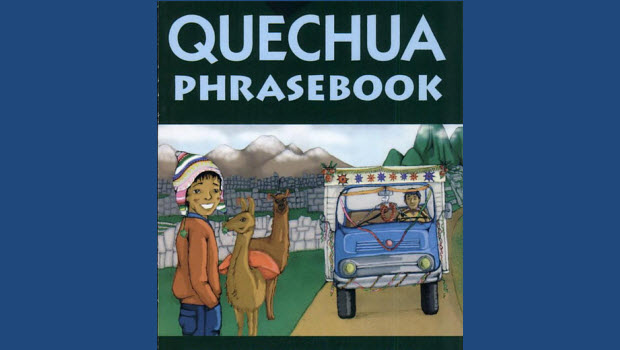 Quechua by the numbers (some travel advice, a book recommendation and a helpful chart)
English-speaking travelers to Peru routinely brush up on their Spanish in preparation for their journey.
What about the other widely spoken mother tongue that came before Spanish — the one spoken in the Andean epicenter of the once-mighty Inca Empire?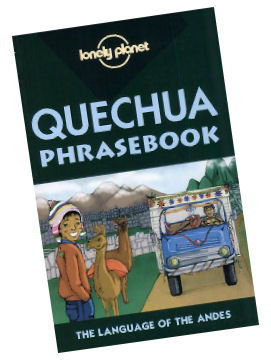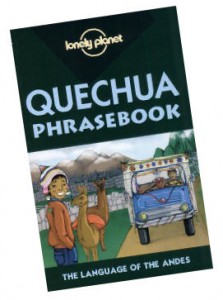 Whether it be asking directions while roaming a village in the Sacred Valley or haggling in the indigenous market in Cuzco, your experience can be greatly enriched if you try to communicate with some phrases in Quechua.
There are some places in the world where local people are unappreciative of foreigners who make the effort to speak their language. Nothing could be further from the truth, however, in the Peruvian sierra. Quechua is a living symbol of ethnic identity and cultural pride, and showing an interest in learning it is almost always perceived as a compliment.
One very good, inexpensive resource is the small paperback Quechua (Lonely Planet Phrasebooks 2nd Edition) by Serafin M. Coronel-Molina. It costs under $10. Consider picking up a copy and keeping it handy during your journey. There are more than two dozen dialects of Quechua spoken throughout the Andes. Coronel-Molina's handbook focuses on the dialect predominate in the southern highlands, including Cuzco.
Like with any language, a great place to start with Quechua is learning how to count. Quechua numbers follow a logical progression and are easy to learn. For example, thirteen is expressed as "ten-plus-three," and thirty would be "three tens."
This chart is intended to help get you started. Have a great trip!
Huq p'unchaykama
Numbers

Quechua

Phonetic

English

0

Illa

Ee-ya

Zero

1

Uk

Ook

One

2

Iskay

Eesh-kay

Two

3

Kinsa

Kin-sah

Three

4

Tawa

Toa-wa

Four

5

Pichqa

Peesh-kay

Five

6

Soqta

Sok-ta

Six

7

Qanchis

Khan-chees

Seven

8

Pusaq

Poo-sak

Eight

9

Isqon

Eesh-kon

Nine

10

Chunka

Choon-kah

Ten

11

Chunka Uk niyuq

Choon-kah Ook Nee-yook

Eleven

12

Chunka Iskay niyuq

Choon-kah Eesh-kay Nee-yook

Twelve

13

Chunka Kinsa yuq

Choon-kah Kin-sah Yook

Thirteen

14

Chunka Tawa yuq

Choon-kah Toa-wa Yook

Fourteen

15

Chunka Pichqa yuq

Choon-kah Peesh-kay Yook

Fifteen

16

Chunka Soqta yuq

Choon-kah Sok-ta Yook

Sixteen

17

Chunka Qanchis niyuq

Choon-kah Khan-chees Nee-yook

Seventeen

18

Chunka Pusaq niyuq

Choon-kah Poo-sak Nee-yook

Eighteen

19

Chunka Isqon niyuq

Choon-kah Eesh-kon Nee-yook

Nineteen

20

Iskay Chunka

Eesh-kay Choon-kah

Twenty

21

Iskay Chunka Uk niyuq

Eesh-kay Choon-kah Ook Nee-yook

Twenty-one

22

Iskay Chunka Iskay niyuq

Eesh-kay Choon-kah Eesh-kay Nee-yook

Twenty-two

23

Iskay Chunka Kinsa yuq

Eesh-kay Choon-kah Kin-sah Yook

Twenty-three

24

Iskay Chunka Tawa yuq

Eesh-kay Choon-kah Toa-wa Yook

Twenty-four

25

Iskay Chunka Pichqa yuq

Eesh-kay Choon-kah Peesh-kay Yook

Twenty-five

26

Iskay Chunka Soqta yuq

Eesh-kay Choon-kah Sok-ta Yook

Twenty-six

27

Iskay Chunka Qanchis niyuq

Eesh-kay Choon-kah Khan-chees Nee-yook

Twenty-seven

28

Iskay Chunka Pusaq niyuq

Eesh-kay Choon-kah Poo-sakNee-yook

Twenty-eight

29

Iskay Chunka Isqon niyuq

Eesh-kay Choon-kah Eesh-kon Nee-yook

Twenty-nine

30

Kinsa Chunka

Kin-sahChoon-kah

Thirty

31

Kinsa Chunka Uk niyuq

Kin-sah Choon-kah Ook Nee-yook

Thirty-one

32

Kinsa Chunka Iskay niyuq

Kin-sah Choon-kah Eesh-kay Nee-yook

Thirty-two

33

Kinsa Chunka Kinsa yuq

Kin-sah Choon-kah Kin-sah Yook

Thirty three

34

Kinsa Chunka Tawa yuq

Kin-sah Choon-kah Toa-wa Yook

Thirty-four

35

Kinsa Chunka Pichqa yuq

Kin-sah Choon-kah Peesh-kay Yook

Thirty five

36

Kinsa Chunka Soqta yuq

Kin-sah Choon-kah Sok-ta Yook

Thirty-six

37

Kinsa Chunka Qanchis niyuq

Kin-sah Choon-kah Khan-chees Nee-yook

Thirty-seven

38

Kinsa Chunka Pusaq niyuq

Kin-sah Choon-kah Poo-sakNee-yook

Thirty eight

39

Kinsa Chunka Isqon niyuq

Kin-sah Choon-kah Eesh-kon Nee-yook

Thirty-nine

40

Tawa Chunka

Toa-waChoon-kah

Forty

41

Tawa Chunka Uk niyuq

Toa-wa
Choon-kah Ook Nee-yook

Forty-one

42

Tawa Chunka Iskay niyuq

Toa-wa
Choon-kah Eesh-kay Nee-yook

Forty-two

43

Tawa Chunka Kinsa yuq

Toa-wa
Choon-kah Kin-sah Yook

Forty-three

44

Tawa Chunka Tawa yuq

Toa-wa
Choon-kah Toa-wa Yook

Forty-four

45

Tawa Chunka Pichqa yuq

Toa-wa
Choon-kah Peesh-kay Yook

Forty-five

46

Tawa Chunka Soqta yuq

Toa-wa
Choon-kah Sok-ta Yook

Forty-six

47

Tawa Chunka Qanchis niyuq

Toa-wa
Choon-kah Khan-chees Nee-yook

Forty-seven

48

Tawa Chunka Pusaq niyuq

Toa-wa
Choon-kah
Poo-sak
Nee-yook

Forty-eight

49

Tawa Chunka Isqon niyuq

Toa-wa
Choon-kah
Eesh-kon
Nee-yook

Forty-nine

50

Pichqa Chunka

Peesh-kay
Choon-kah

Fifty

51

Pichqa Chunka Uk niyuq

Peesh-kay
Choon-kah Ook Nee-yook

Fifty-one

52

Pichqa Chunka Iskay niyuq

Peesh-kay
Choon-kah
Eesh-kay
Nee-yook

Fifty-two

53

Pichqa Chunka Kinsa yuq

Peesh-kay
Choon-kah
Kin-sah Yook

Fifty-three

54

Pichqa Chunka Tawa yuq

Peesh-kay
Choon-kah
Toa-wa Yook

Fifty-four

55

Pichqa Chunka Pichqa yuq

Peesh-kay
Choon-kah
Peesh-kay Yook

Fifty-five

56

Pichqa Chunka Soqta yuq

Peesh-kay
Choon-kah
Sok-ta Yook

Fifty six

57

Pichqa Chunka Qanchis niyuq

Peesh-kay
Choon-kah
Khan-chees
Nee-yook

Fifty-seven

58

Pichqa Chunka Pusaq niyuq

Peesh-kay
Choon-kah
Poo-sak
Nee-yook

Fifty-eight

59

Pichqa Chunka Isqon niyuq

Peesh-kay
Choon-kah
Eesh-kon
Nee-yook

Fifty nine

60

Soqta Chunka

Sok-ta
Choon-kah

Sixty

61

Soqta Chunka Uk niyuq

Sok-ta
Choon-kah Ook Nee-yook

Sixty-one

62

Soqta Chunka Iskay niyuq

Sok-ta
Choon-kah
Eesh-kay
Nee-yook

Sixty-two

63

Soqta Chunka Kinsa yuq

Sok-ta
Choon-kah Kin-sah Yook

Sixty three

64

Soqta Chunka Tawa yuq

Sok-ta
Choon-kah
Toa-wa Yook

Sixty-four

65

Soqta Chunka Pichqa yuq

Sok-ta
Choon-kah
Peesh-kay Yook

Sixty-five

66

Soqta Chunka Soqta yuq

Sok-ta
Choon-kah
Sok-ta Yook

Sixty-six

67

Soqta Chunka Qanchis niyuq

Sok-ta
Choon-kah
Khan-chees Nee-yook

Sixty-seven

68

Soqta Chunka Pusaq niyuq

Sok-ta
Choon-kah
Poo-sak
Nee-yook

Sixty eight

69

Soqta Chunka Isqon niyuq

Sok-ta
Choon-kah
Eesh-kon
Nee-yook

Sixty nine

70

Qanchis Chunka

Khan-chees
Choon-kah

Seventy

71

Qanchis Chunka Uk niyuq

Khan-chees
Choon-kah Ook Nee-yook

Seventy-one

72

Qanchis Chunka Iskay niyuq

Khan-chees
Choon-kah Eesh-kay Nee-yook

Seventy two

73

Qanchis Chunka Kinsa yuq

Khan-chees
Choon-kah Kin-sah Yook

Seventy-three

74

Qanchis Chunka Tawa yuq

Khan-chees
Choon-kah Toa-wa Yook

Seventy four

75

Qanchis Chunka Pichqa yuq

Khan-chees
Choon-kah Peesh-kay Yook

Seventy five

76

Qanchis Chunka Soqta yuq

Khan-chees
Choon-kah Sok-ta Yook

Seventy six

77

Qanchis Chunka Qanchis niyuq

Khan-chees
Choon-kah Khan-chees Nee-yook

Seventy seven

78

Qanchis Chunka Pusaq niyuq

Khan-chees
Choon-kah Poo-sak
Nee-yook

Seventy-eight

79

Qanchis Chunka Isqon niyuq

Khan-chees
Choon-kah
Eesh-kon Nee-yook

Seventy-nine

80

Pusaq Chunka

Poo-sak
Choon-kah

Eighty

81

Pusaq Chunka Uk niyuq

Poo-sak
Choon-kah Ook Nee-yook

Eighty-one

82

Pusaq Chunka Iskay niyuq

Poo-sak
Choon-kah Eesh-kay Nee-yook

Eighty-two

83

Pusaq Chunka Kinsa yuq

Poo-sak
Choon-kah Kin-sah Yook

Eighty-three

84

Pusaq Chunka Tawa yuq

Poo-sak
Choon-kah Toa-wa Yook

Eighty-four

85

Pusaq Chunka Pichqa yuq

Poo-sak
Choon-kah Peesh-kay Yook

Eighty-five

86

Pusaq Chunka Soqta yuq

Poo-sak
Choon-kah Sok-ta Yook

Eighty-six

87

Pusaq Chunka Qanchis niyuq

Poo-sak
Choon-kah Khan-chees Nee-yook

Eighty seven

88

Pusaq Chunka Pusaq niyuq

Poo-sak
Choon-kah Poo-sak
Nee-yook

Eighty-eight

89

Pusaq Chunka Isqon niyuq

Poo-sak
Choon-kah
Eesh-kon Nee-yook

Eighty nine

90

Isqon Chunka

Eesh-kon
Choon-kah

Ninety

91

Isqon Chunka Uk niyuq

Eesh-kon
Choon-kah Ook Nee-yook

Ninety-one

92

Isqon Chunka Iskay niyuq

Eesh-kon
Choon-kah Eesh-kay Nee-yook

Ninety-two

93

Isqon Chunka Kinsa yuq

Eesh-kon
Choon-kah Kin-sah Yook

Ninety-three

94

Isqon Chunka Tawa yuq

Eesh-kon
Choon-kah Toa-wa Yook

Ninety-four

95

Isqon Chunka Pichqa yuq

Eesh-kon
Choon-kah Peesh-kay Yook

Ninety-five

96

Isqon Chunka Soqta yuq

Eesh-kon
Choon-kah Sok-ta Yook

Ninety-six

97

Isqon Chunka Qanchis niyuq

Eesh-kon Choon-kah Khan-chees Nee-yook

Ninety-seven

98

Isqon Chunka Pusaq niyuq

Eesh-kon Choon-kah Poo-sak Nee-yook

Ninety-eight

99

Isqon Chunka Isqon niyuq

Eesh-kon Choon-kah Eesh-kon Nee-yook

Ninety nine

100

Pachak

Pah-chak

Hundred