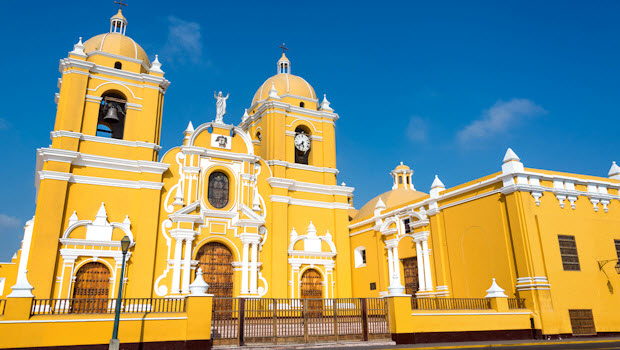 Historic center of Trujillo Peru – Night and Day
Trujillo, the provincial capital city where colonial and pre-Hispanic architectural jewels from the past coexist harmoniously at the center of a vibrant, modern urban center.
Strolling along its historic main plaza, the first thing you'll notice are the bright yellow and blue buildings, ornately detailed with white moldings and brown wooden doorways and window frames.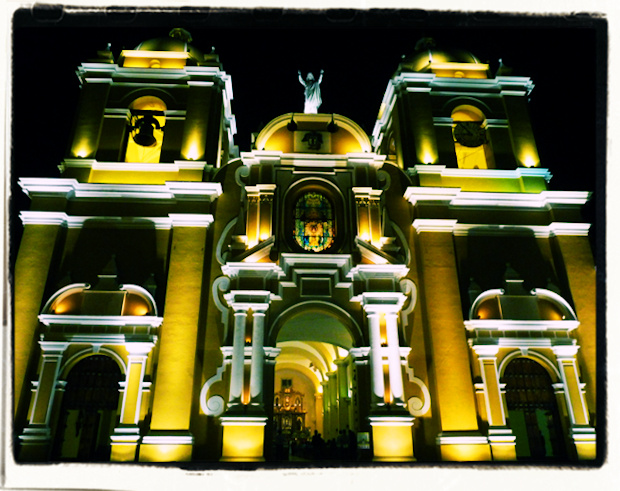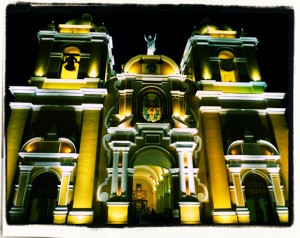 Commanding one corner of the city square is The Cathedral of Trujillo, built in 1666. Religious sculptures and Cuzqueño baroque paintings line its interior, as well as a site museum open from Monday through Sunday from 7 a.m. until noon and then from 4 p.m. until 9 p.m.
The Casa Calonge, a 16th century mansion, is the headquarters of the Central Reserve Bank, the exhibits of gold artifacts from the Chimu culture and the exquisite furniture from the Spanish Vice Royal and Peruvian Republican eras. One of its historic treasures is the writing desk of Simon Bolivar, who stayed in the mansion when it was owned by his friend, Juan Antonio Ochaita y Urquiaga. It was at this desk that Bolivar drafted much of his treaties emancipation for South America from the Spanish Crown.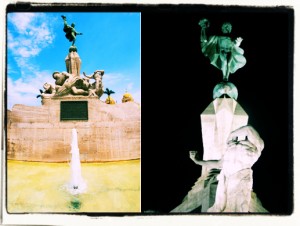 The Plaza's dominant feature is the Baroque marble sculpture at its center, created by the German artist Edmund Müller. It is most impressive at night, when its black marble is illuminated.
A few blocks away is another mansion, a neoclassic structure from the Republican era, that's well worth visiting, the Palace of Itúrregui, located on Calle Pizarro. It is open Monday through Sunday from 9 a.m. to 7 p.m. The building, with its golden ceiling moldings and grand carved wooden columns was constructed in 1842. Its owner was Juan Manuel Itúrregui, a hero and financial benefactor of Peru's independence movement from Spain.
The most charming and popular destinations in the historic center of Trujillo's is the nostalgic Toy Museum, owned by Peru's well-known artists and Geraldo Chávez. His exhibit includes a vast private collection porcelain dolls molded lead soldiers miniature wooden houses, automobiles, ships, and marionettes from all around the world. Visitors are encouraged to pose for photographs with the toys, the photography is prohibited in the rear gallery of the museum where pre-Columbian artifacts are exhibited. The Toy Museum is located on the second floor of colonial mansion on the seventh block of Jíron Independencia, and is open to the public Monday through Saturday from 10 a.m. to 6 p.m. (There is a nominal entry fee.)