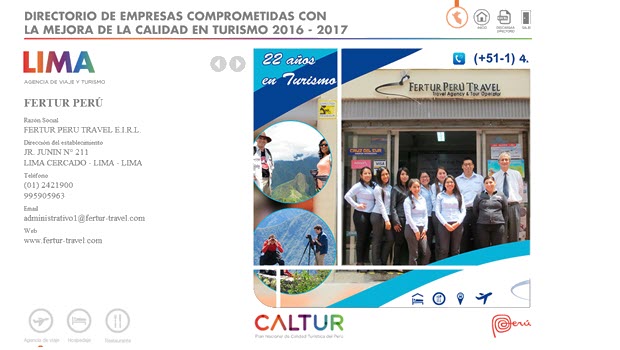 Fertur Peru Travel Again Earns CALTUR Seal of Tourism Quality
Fertur Peru Travel is proud to have earned for a 3rd consecutive year the CALTUR seal of quality from Peru's Ministry of Foreign Trade and Tourism!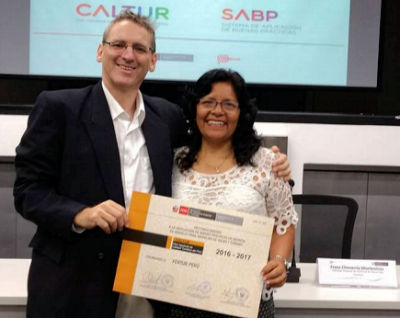 General manager and founder of Fertur, Siduith Ferrer, and her husband Rick Vecchio, received the recognition last Thursday during a ceremony at the ministry's headquarters.
"Thank you to our wonderful staff in our three offices, our drivers and guides and YOU, our clients, for helping Fertur Peru Travel earn CALTUR certification for 2016-2017," Rick posted from the event to Fertur's Peru Vacations Facebook page.
We are proud to have been deemed "Committed to Improving the Quality of Peruvian Tourism" following a rigorous review.
CALTUR has four principal objectives, all of which Fertur Peru Travel shares:
Specific Objective # 1:
Competent human resources constitute the basis for the management of all touristic services at all levels.
Specific Objective # 2:
Providers of touristic services apply best business practices and develop their activities with social responsibility and respect for natural and cultural patrimony.
Specific Objective # 3:
Touristic sites are managed with a criteria of sustainable public use, have adequate facilities and services, and constitute attractive and competitive products.
Specific Objective # 4:
Principal tour destinations provide security to the visitor and are optimally managed.
In this sense, our commitment to help improve the quality of travel and tourism in Peru and develop exciting, enriching experiences for our clients is stronger than ever as we head into 2017.