Recap of Gelinaz! Pulpo Fiction
A few weeks ago, we puzzled over the upcoming Gelinaz! food performance dinner.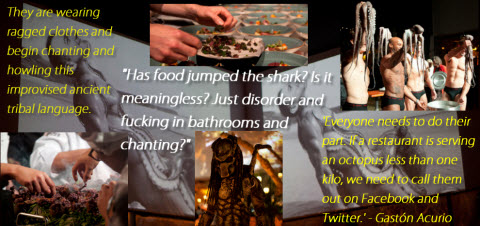 The $750-per-chair, avant-garde extravaganza brought together world renowned chefs like Magnus Nilsson, Daniel Patterson and Kobe Desramaults, paying homage to Peru's top chef/restauranteur Gastón Acurio.
But what in the world was this thing, held at the foot of the ancient Huaca Pucllana pyramid in Lima's Miraflores district?
Well, the recap of the evening by Lima-based writer and photographer Nicholas Gill provides the answer.
It was a chanting, transcendental, sacrificial, homo-erotic tinged, do-gooder conservationist, hedonistic, gastronomic orgy in celebration of pulpo — which, if you didn't know, is Spanish for octopus.
Read his article, Dinner of the Damned.
 If you like this post, please remember to share on Facebook, Twitter or Google+