Meet the world's oldest radio show host in Lima, Peru – Guinness World Records
Interesting and important events took place on December 18, 1944.
On that day, the U.S. Supreme Court upheld the constitutionality of wartime imprisonment of Japanese-Americans in internment camps, but also ruled that undeniably loyal Americans of Japanese descent had to be released. The U.S. Navy's 3rd Fleet was enveloped in a massive typhoon in the Western Pacific, capsizing three destroyers. Hollywood star Frederic March appeared that day on the cover of Life Magazine.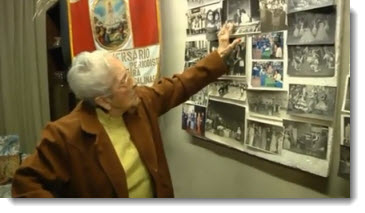 And on December 18, 1944, in Lima, Peru, a young radio announcer, Maruja Venegas, launched Kids Club Radio. The broadcast went out specifically to entertain ailing children at a public hospital. But her show caught on, and became a national hit. By the 1950s it regularly drew Peru's top musical talent.
And the show went on, and on.
Sixty-eight years later, Venegas, now 97, is still broadcasting her "Radio Club Infantil," making her the longest-running radio personality on the planet, according to Guinness World Records.
"The children that were listeners have grown up, they're married," Venagas told The Associated Press. "Today they're grandparents. So, it's them, the grandparents that support me most."
"A lot of grandparents sit their grandchildren down to listen to the program," she said.
Since she turned 90, Venegas has done her broadcast from home, over the phone, but says she still plans her own programs and has no plans to retire from her storied DJ career.
If you like this post, please remember to share on Facebook, Twitter or Google+