So what exactly is the deal with Kuelap?
A tourist from Lima was briefly detained at Kuelap shortly after entering the ancient walled citadel through its trench-like entrance. It's one of three narrow ingresses flanked by towering stone walls on both sides.
The event happened at 2:45 p.m. on Tuesday, August 29th. El Comercio, Peru's largest daily newspaper, covered the story.
The man wasn't being arrested. He was stopped by officials from the Ministry of Culture because they had something to give him. It was a certificate for being the 1,000th visitor since they partially reopened the ancient site 10 days earlier.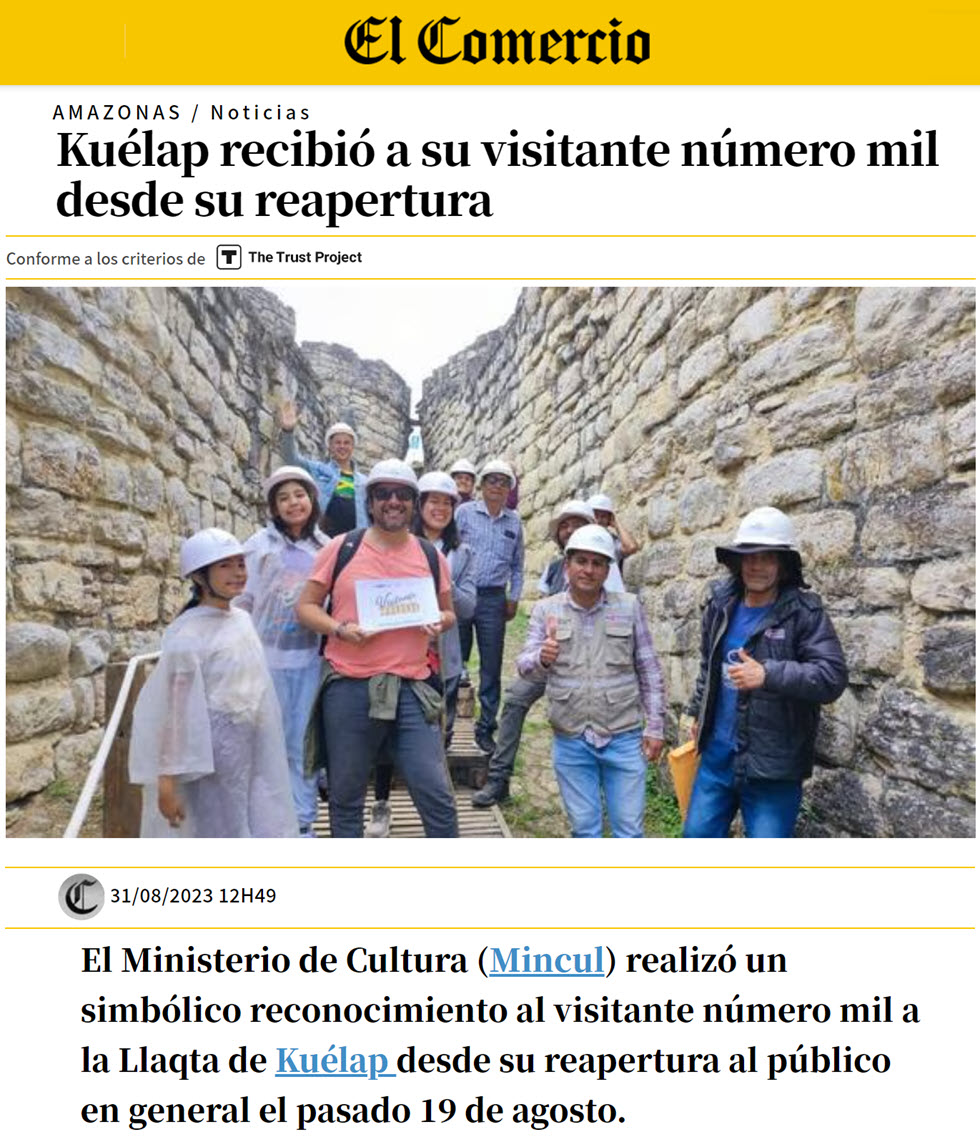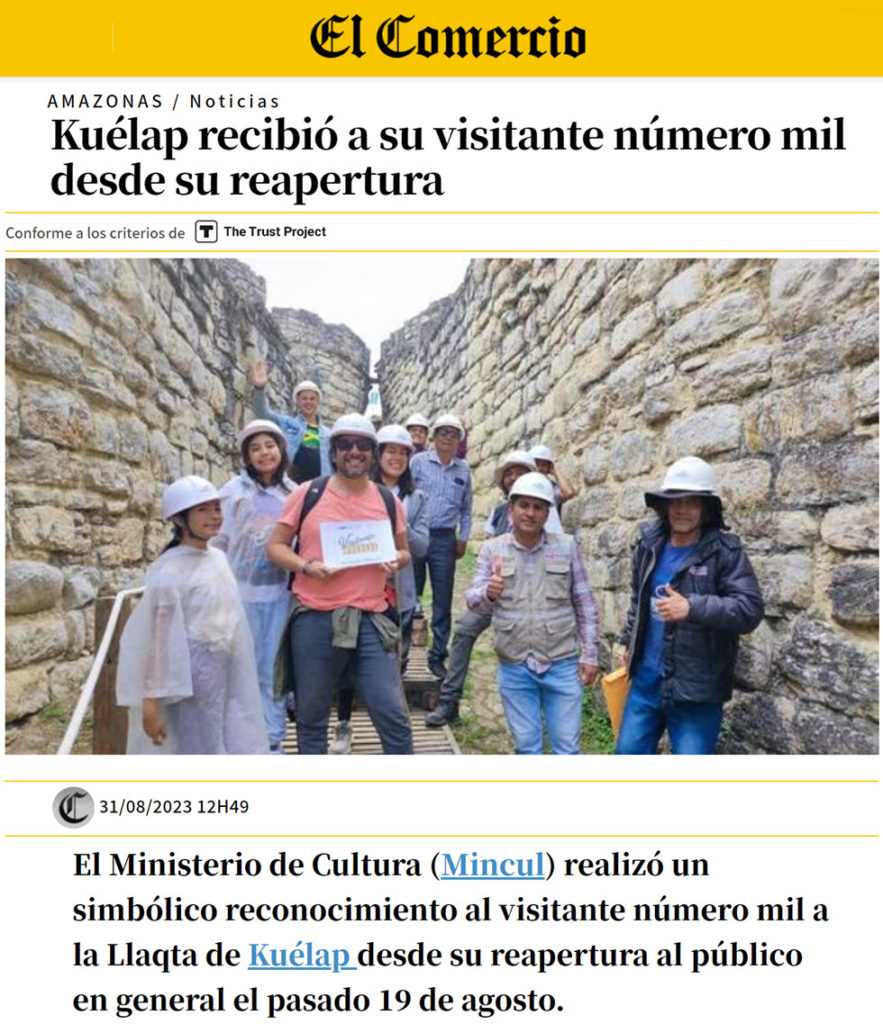 The narrow entrance where the photo-op took place once provided a strategic bottleneck where Chachapoya sentries could easily control and defend access to the ancient fortress.
Winding your way through that entrance gives you a sense of just how inaccessible and impervious Kuelap must have seemed to outsiders in its heyday. What's past is prologue.
Kuelap, one of Peru's most important archaeological sites and tourist attractions, is only partially reopened after being closed for nearly a year and a half. Repairs and maintenance work continue after a large section of the southern perimeter wall collapsed in April 2022 because of water infiltration.
For now, visits are limited to 144 people per day in groups of 12 for 45-minute tours. Reservations are required. Access is free of charge through the end of the year. But currently it's only a select few Peruvian citizens, foreign residents in Peru, and citizens of the Andean Community that are being allowed in.

For everyone else, there is an alternative route around the massive outer walls, with free admission into the interpretation center.
The cable cars to Kuelap from Tingo Nuevo are operating on the normal schedule: Tuesday to Sunday including holidays, from 8:00 a.m. to 4:30 p.m. (The aerial tramway will be closed on October 17-18 for scheduled drills training.)
Is it worth going to Chachapoyas if I can't see Kuelap?
Kuelap is known as the centerpiece of Chachapoya culture. Located on a ridge overlooking the Utcubamba Valley in northern Peru, it covers around 20 hectares and contains over 400 circular stone buildings within 3 concentric perimeter walls up to 20 meters high.
Kuelap is thought to have housed more than 3,000 inhabitants at its peak.
So, Kuelap is certainly the most well-known archaeological site left by the Chachapoya. But it is not the only one. The Chachapoya occupied a vast territory in northern Peru between the Marañón and Huallaga rivers. They were renowned warriors, shamans, and skilled artisans.
At their cultural peak from around AD 800 until the Inca conquest in the 1470s, the Chachapoya constructed stone citadels and shrines perched atop mist shrouded cliffs over a huge expanse of the cloud forest.
Today, the remnants of their society are found far and wide, capturing the imagination of archaeologists and adventurers seeking to understand who exactly were the enigmatic Chachapoya people.
They were fierce warriors who resisted the mighty Inca expansion into their territory. The Chachapoya were also reputed to be exceptional shamans and healers, renowned throughout the ancient Andes for their occult powers and deep knowledge of tropical forest medicines.
Exploring Chachapoyas' Burial Sites
The Chachapoyas' burial sites are a testament to their reverence for the afterlife and their connection to the spiritual realm. Elaborately decorated funerary structures dot the landscape, displaying the artistry and sophistication of their lost civilization. Mummies and artifacts provide invaluable insights into their religious beliefs, artistic expressions, and daily lives.
Laguna de los Cóndores: Where Ancient Mummy Bundles Were Found
Laguna de los Cóndores is a picturesque lake about 50 miles south of Chachapoyas. It was here in 1996, that archaeologists excavating Llaqtacocha, a Chachapoya settlement, discovered over 200 mummy bundles in painted tombs along the limestone cliffs. Reaching the lake requires a nine-hour hike, best done with horse support and a knowledgeable guide.
Museo Leymebamba: Preserving Chachapoyas' Cultural Heritage
But seeing the mummies is easy. It's less than a 2-hour drive from Chachapoyas to the town of Leymebamba. The Museo Leymebamba is a state-of-the-art museum dedicated to preserving and showcasing the mummies, as well as textiles and other artifacts that were rescued from Laguna de los Cóndores before huaqueros, or tomb raiders, could pillage them.
Gocta Falls: The World's Third Tallest Waterfall
The majestic Gocta Falls is the third tallest waterfall in the world, cascading 771 meters down sheer cliffs in a misty cloud forest paradise. A natural wonder surrounded by awe-inspiring mountain scenery. The Gocta Andes Lodge was designed to showcase the falls, with balcony, terrace and poolside views. Hiking from the lodge to the base of the falls is a popular excursion.
The Fauna of the Chachapoya Region
The wide elevation range and transitional nature of this region underlie an exceptionally high bird diversity. With over 439 species identified, the area is a birdwatcher's paradise.
Endemic species include the Marvelous Spatuletail Hummingbird and the Long-whiskered Owlet.
Parrots like the Blue-headed Parrot are found in forest canopies. Rupicola peruviana, the national bird of Peru known as the Andean Cock-of-the-Rock, inhabits the region.
Brightly colored tanagers, flowerpiercers, and toucanets add flashes of color. The Emerald Toucanet's green plumage provides camouflage in the lush montane forests.
Hummingbirds are especially diverse, like the Sword-billed Hummingbird with a bill longer than its body. Marvelous Spatuletails have distinctive racquet-shaped tails.
Raptors include Ornate Hawk-Eagles, able to swoop down on mammals and birds from high branches. Tropical and temperate species overlap in these mountainous cloud forests
Continued discoveries await intrepid birders.
Orchids of Chachapoyas
The Chachapoyas region of Peru has always been a lush paradise for orchid enthusiasts. Sprawling across this verdant territory are over 230 species of these captivating flowers. Many, acting as epiphytes, find their home high in the trees. The thrill of discovery is ever-present, with new species such as the Phragmipedium kovachii, being identified as recently as 2001 near Leymebamba. Other notables include the Comparettia, Stelis microchila, and various species of Telipogon, showcasing the region's rich biodiversity.
Those are just a few examples.
Let Chachapoyas's other archaeological, natural and cultural wonders lure you in even if, for the time being full access to Kuelap is limited.