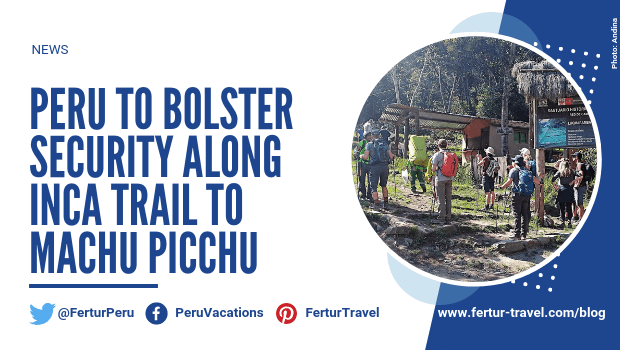 Peru to bolster security along Inca Trail to Machu Picchu
One of Peru's top tourist attractions, the Inca Trail to Machu Picchu, is going to be even safer soon, thanks to heightened security measures by the Peruvian government to protect tourists and tourism workers along the historic hiking route.
The agreement was made by Peru's Ministry of Culture, Ministry of the Environment, and National Police, as well as the District Municipality of Machu Picchu.
It should be noted that since entry permits and regulations were implemented for the Inca Trail in 2004, the route has been relatively crime free and is generally quite safe for the 500 trekkers, guides and porters who embark on the journey every day to Machu Picchu.
---
You Might Also Like: Get Inca Trail Reservations in Advance with Fertur
---
However, there have been isolated incidents of robbery of tourists in recent years, and since the trail is such an enormous attraction for travelers from around the world, it's a very high priority for the relevant ministries and agencies to make the trek as safe as possible.
The new measures call for the installation of strategically-placed security cameras along the Inca Trail. Agents from Peru's High Mountain Rescue Unit are currently working on identifying the locations along the trail where cameras would be most beneficial.
The agencies are also discussing the possibility of establishing a police presence at certain points on the trail as an additional safety measure.
The measure looks to ensure an even higher level of safety for tourists traveling to the site, but also seeks to create safer conditions for the many Peruvians who work in tourism on the trail — porters, tour guides, and others who rely on a flourishing tourism industry for their livelihood, and who are also liable to be victims of any crime that may happen.
Finally, although it should go without saying, this development serves as a reminder that travelers along the trail should avoid any acts of nudity or rowdiness. One might not think of it as a frequent occurrence, but it's actually one of the stated secondary motives for the heightened security measures.