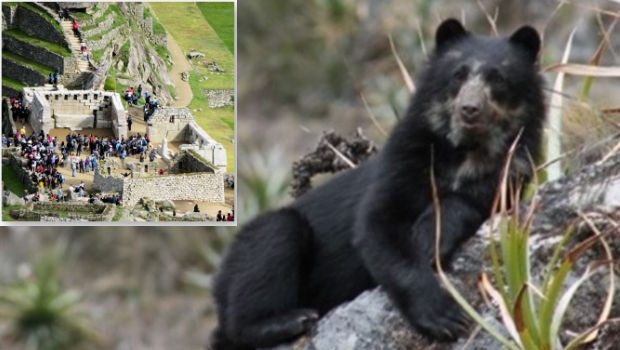 Spectacled Bears making a comback at Machu Picchu
It seems that tourists are not the only ones exploring the Machu Picchu Sanctuary in ever greater numbers. Spectacled bears appear to be thriving in the protected World Heritage park.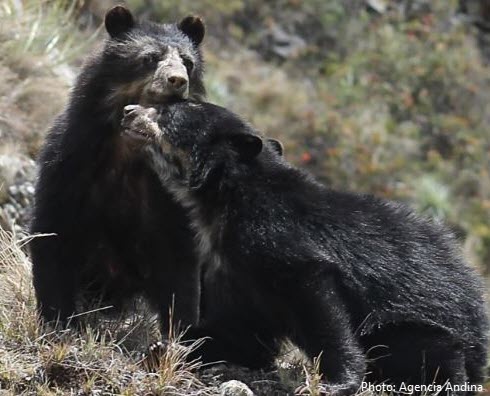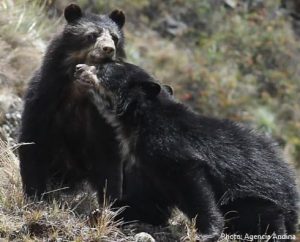 José Carlos Nieto, Machu Picchu's chief of Peru's National Service of Protected Natural Areas (Sernanp), says monitoring of Andean bears over the past three years reveals the presence of the species in more than 95 percent of the 91,250 acres of protected natural area.
A previous study had shown that the Andean bears' habitat covered only a northwest portion of the sanctuary, occupying less than 30 percent of the greater Machu Picchu protected zone.
"Andean Bears are very reclusive by nature and rarely seen in the wild, making species monitoring and evaluation a difficult task," according to the Wildlife Conservation Society, which helped carry out the studies. "Currently the bear is listed by the IUCN Red List of Threatened Species as Vulnerable and WCS scientists in Andean bear range countries are developing new tools and protocols to evaluate and understand the current distribution of bear populations."
Establishing the spectacled bear population and habitat growth is important "to set the baseline for future assessments and planning activities Of management that allow its long-term conservation," Nieto told state-run news agency Andina.
The research results were announced as part of the activities celebrating the 36th anniversary of Machu Picchu being declared a Historic Sanctuary on January 8, 1981. It was declared a World Heritage site by UNESCO in 1983.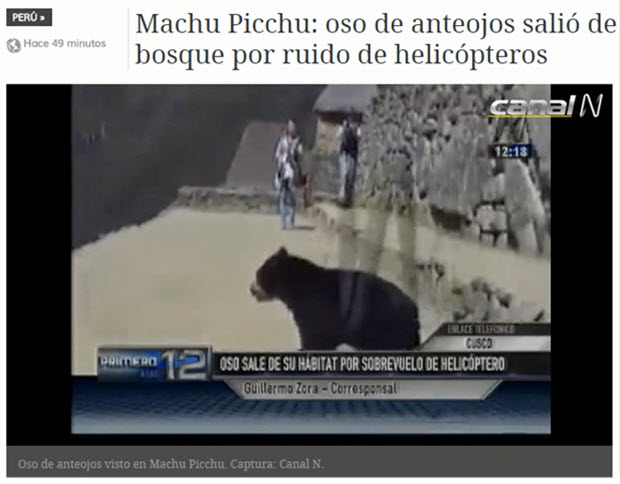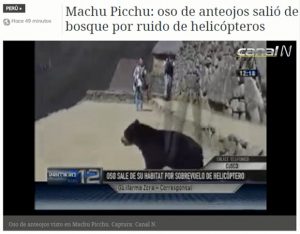 There were six reported sightings of spectacled bears during 2016. Tourists rarely see the reclusive creatures. One exception happened last May, when a young bear was spooked by the din of an army helicopter, possibly piloted by former President Ollanta Humala, himself.
The bear made a dash through Machu Picchu, crossing paths with tourists. Cable news station Canal N broadcast a video of the bear's rare daylight incursion into Peru's premier tourist attraction.
The little guy was reportedly caught by park guards and returned to his mother in the cloud forest.