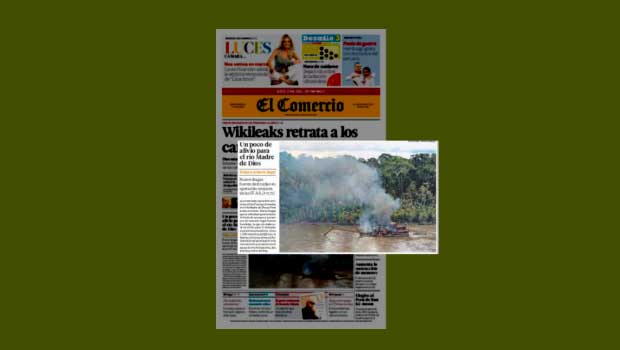 Peru cracks down on illegal gold miners in Amazon jungle
An update to the Feb. 13, 2011, post about unregulated gold exploitation contaminating and destroying huge swaths of Peru's mega-diverse southern Amazon jungle:
Over the weekend, Peru's navy, armed with tear gas and rubber bullets, started what is planned as a month-long military operation to destroy the miner's  illegal river dredging platforms.
Defense Minister Jaime Thorne told Radioprogramas that 19 of the estimated 250 dredging platforms had been destroyed since Saturday.
Peru's leading newspaper El Comercio wrote about the dynamiting of the dredging platforms on the front page of its Sunday edition. The headline read: "A little relief for the Madre de Dios River."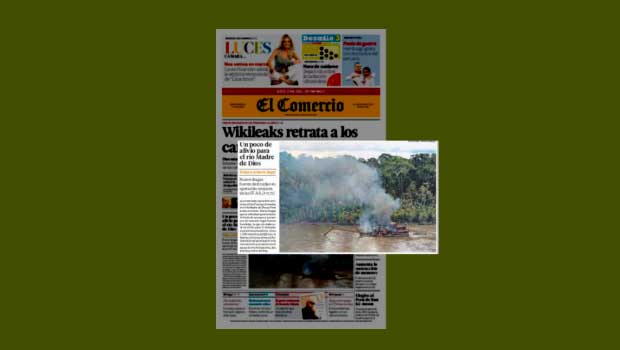 Agence France-Presse (AFP) put out a similar wire story under the headline: Peru cracks down on illegal gold miners in Amazon.
Until now, gold miners have extracted an estimated 16 to 18 tons of gold — with an estimated value of $800 million — from the riverbeds of this fragile ecosystem. But that sum could hardly make up for the damage they cause, stripping bare the jungle and dumping about 450 tons of mercury into the rivers every year.
As mentioned in the previous post, one of the most effective things you can do to protect and preserve Peru's southern Amazon jungle is to visit one of the eco-lodges in the Tambopata Reserve outside of  Puerto Maldonado. It doesn't even have to be with Fertur Peru, although we'd be honored to have your business.
Your tourism dollars offer the best and most viable alternative for the people of region, empowering them to reject the gold mining.