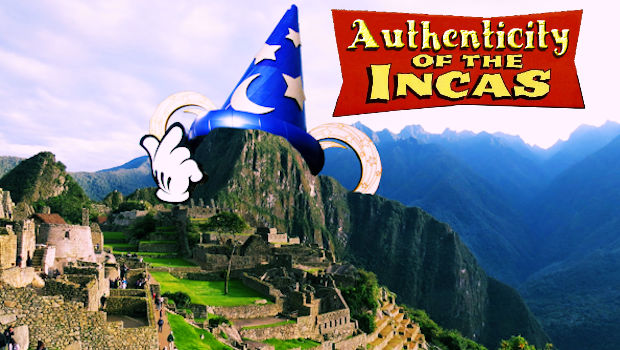 Peru Congressman Proposes the Disneyfication of Cusco
Mickey Mouse's big 88th birthday adventure took him to Cusco last year. "A chance to learn about new cultures and meet new friends in Cusco? I'm all ears!" the world's most famous rodent wrote on his Facebook FanPage.
But was the visit merely Mickey crossing Machu Picchu off his bucket list? Perhaps not. 
"A whirlwind of wonders!"
Peruvian Congressman Sergio Dávila says he's pushing for the Disneyfication of South America's most iconic destination.
"We may see it as a dream, but I proposed to put a Disney in Cusco — a Disney World in South America," Dávila told a TV reporter for the state-run cable show Agenda Parlamentaria. 
"It would allow us to complement what is in Cusco, the archaeological and historical tourism, with current-day tourism for youngsters," Dávila said. "Just as they have them in Europe and the United States, it's lacking here in South America."
Move over Inca World?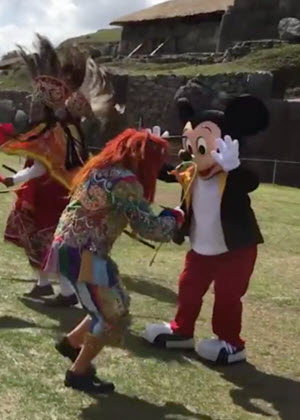 Archaeological, historical and cultural tourism is, by its nature, a complicated business. It has as much to do in Peru with political, economic and social integration as it does with holiday packages.
In Cusco, it is based on the self-identity of Quechua Indians and mestizos who for centuries were disenfranchised under colonial and postcolonial systems of oppression. Today, their descendants are the main stakeholders in the beating heart of Peru's tourism industry.
Regional authorities have for several years contemplated mega-construction projects to join Cusco, the Sacred Valley, Choquequirao, Vilcabamba and Machu Picchu into a grand tourism circuit.
That plan — which includes roads, tunnels, highways and convention centers — is called "Mundo Inka," or "Inca World." Some people might find the name cringe-worthy, precisely because it conjures an image of a mass-market Magic Kingdom.
But at the very least, there is general agreement that tourism development must be constrained by basic principles of cultural heritage management. Those principles are defined — and constantly refined — by the United Nations educational and cultural agency, UNESCO.
Sorry Mickey, but it's very difficult to see how you, Goofy and Donald could ever bear exceptional testimony to Cusco's cultural traditions. Any billion dollar mega project that gets built has to contribute to the authenticity, integrity and offer unique testimony to the brilliant pre-Columbian civilization that existed in Cusco four hundred years before you were born.
But don't give up, there's still hope.
Today in Peru's main business daily Gestion, Carlos Canales, president of  Lima's Bureau of Conventions and Visitors, said there are plenty of other, more suitable locations for a theme park: Piura on Peru's northern coast, Iquitos in the northern Amazon jungle and Arequipa in the southern Andes.
"If I wanted to make a replica of Disney World, I would do it in Ica because it has a sunny climate all year round, a port, as well as an airport," he said. "It is close to the city of Lima and in particular, it never rains. It could be attractive to promote a Disney in South America."