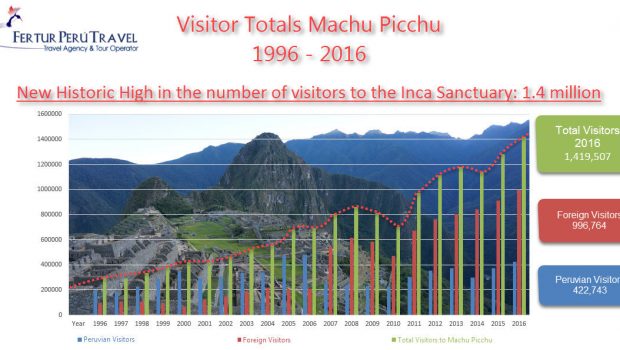 Machu Picchu visitor entry in two shifts will begin in July
The new ticketing system for visitors to Machu Picchu will be implemented on July 1, with tourists entering the Inca sanctuary in two shifts, one in the morning and the other in the afternoon. 
The change was announced by Cusco's regional Culture Directorate on its Machu Picchu ticket sales page.
The first shift would be from 6 a.m. until 12 p.m. and the second from 12 p.m. until 5:30 p.m.
"Reservation and sale of entrance tickets for these two different shifts will be starting June 1, 2017," in accordance with the UNESCO-endorsed Master Plan for the iconic Inca sanctuary. "In the month of May the necessary adjustments will be made in the system," the communique said.
"This measure is adopted with the aim of ensuring a better flow of tourism, conservation and preservation of the Inca sanctury, in accordance with the Master Plan of the Historic Sanctuary of Machu Picchu."
A record 1.4 million visitors toured Machu Picchu in 2016, according to official figures provided by Peru's Ministry of Foreign Trade and Tourism.
That's 10.86 percent increase over 2015, when 1,282,515 people explored the site.
Dr. Elías Carreño Peralta, the Ministry of Culture's official in charge of implementing the Master Plan, told me in an interview for Peruvian Times a few months ago that major changes are coming soon to ensure the Inca Citadel's long-term sustainability.
"Unlike petroleum and gold, which can be depleted, Machu Picchu should remain forever," he said. But far from a "Disneyfication" of the Word Heritage Site, Carreño said the Master Plan is designed to restore and integrate long-overlooked Inca trails, terraces and ceremonial ruins to provide visitors a more authentic experience than ever.