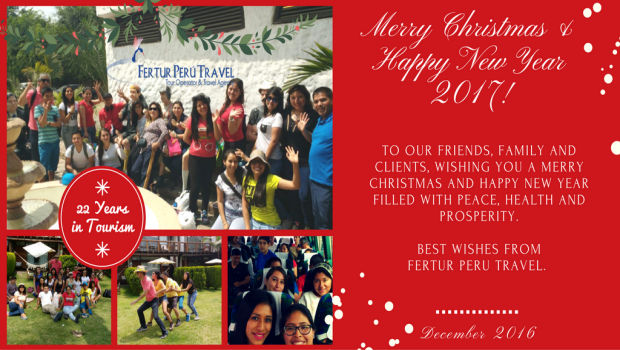 Happy Holidays from Fertur Peru Travel!
We want to wish our past, present and future clients Happy Holidays and a Peaceful and Prosperous New Year, punctuated by inspiring travel adventures.
As we get set to flip the calendar, we're very excited about the great developments for travel in Peru for 2017.
We not only look forward to providing amazing experiences for you in Cusco, Machu Picchu, Nasca, and Lake Titicaca, etc., but also those off-the-beaten path destinations in less traveled corners of Peru that are coming into their own:
The Moche and Chimu archaeology sites along Peru's northern coast,
The Chachapoya temple fortress of Kualap in the northeastern jungle corridor of Amazonas,
The white sand beaches of Tumbes,
Just to name a few….
We look forward to serving you in 2017!