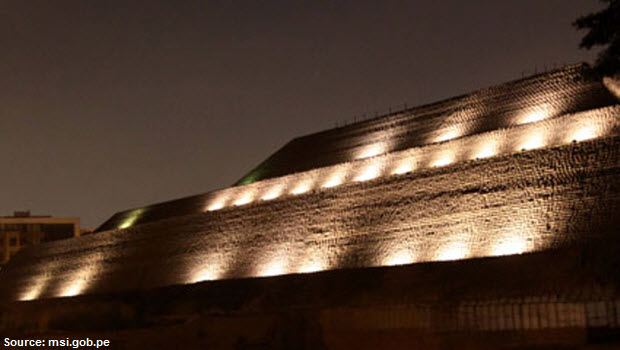 Peru to develop Lima's unsung archaeological ruins for tourism
Plans are afoot to illuminate nine of Lima's under-appreciated pre-Inca archaeological sites for tourists by the end of 2010, Peru's minister of Foreign Commerce and Tourism (Mincetur) announced Wednesday.
"The aim is to give value to a series of assets that the city of Lima owns, among them the temples, which are archaeological and have a very important potential for tourism," Martín Pérez told state news agency Andina.
He said that Mincetur will work in conjunction with the National Institute of Culture (INC) to create public areas for nighttime events at the Huaca Huallamarca in San Isidro, Mateo Salado in Pueblo Libre, Armatambo in Chorrillos, and the ruins of San Borja, Santa Cruz, San Marcos and Huantille in Magdalena, as well as the Huaca La Luz in San Miguel and La Merced in Surquillo.
"The work will consist of putting in illumination at these archaeological center, as well as be able to hold light and audio displays, until a reasonable hour of course so ensure that the local neighbors are not disturbed," Pérez said.
"These temples will end up being landmarks of the capital, as the Huaca Pucllana is currently."
For the last decade, Lima's district of Miraflores has leased space to the Huaca Pucllana Restaurant, one of city's finest gourmet
eateries, where patrons dine just meters from the magnificently lit adobe pyramid built by the Lima culture (200-700 AD). A portion of the restaurant's profits are allocated to restoration and ongoing scientific research at the site.
It's an economic model that Pérez said the government would like to extend to the other pre-Columbian ruins that dot the city.
"We have also spoken to the chief of the INC, Cecilia Bákula, to study the possibility of generating certain additional activities, like restaurants," he said.