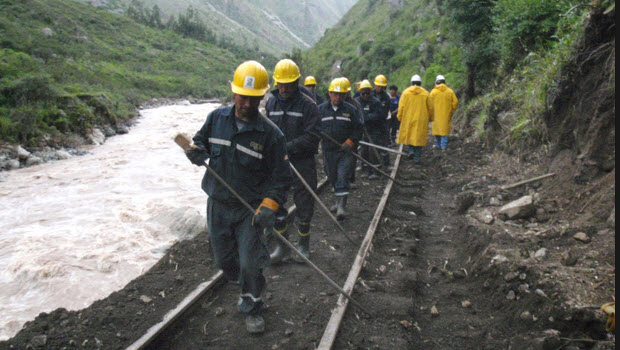 Peru president pledges to re-establish train to Machu Picchu within 2 months and help residents rebuild after flooding
President Alan Garcia pledged the Peruvian government's full support Friday to re-establish train service to the Inca citadel of Machu Picchu, after four days of torrential rain sparked massive flooding in the Sacred Valley and washed away sections of railroad track leading to Peru's top tourist destination.
"The government is going to guarantee whatever is necessary to re-establish the road system, the rail system and, secondly, electronic communications that have been damaged,"Garcia told RPP Radio. He estimated that repairs could take less than two months to complete.
Garcia called on Peruvians not to fall prey to "alarmism" after he flew over the area to survey the damage.
He promised direct aid to residents in the Sacred Valley whose homes, businesses and farmlands were damaged or destroyed by the flooding.
Garcia's Cabinet Chief, Javier Velásquez, said that as of Friday, the National Defense Institute had sent 120 tons of humanitarian aid, including tents and blankets to the hardest hit areas.
The floods have displaced 23,445 people, destroyed 4,689 homes, damaged nine bridges and inundated 16,151 hectares of farmland.
Landslides and flooding are not unusual during the December-March rainy season in Peru's southern highlands, but Cusco residents and foreign tourists had no way to be prepared for the onslaught of torrential showers earlier this week, which were unlike anything anyone has seen in decades.
The volume of water in the Vilcanota River reached historic levels of 1,100 cubic meters per second, breaking a record of 330 cubic meters, and overflowing its banks in Aguas Calientes, the town below Machu Picchu. Hotels and restaurants there were severely damaged and hundreds of travelers were stranded until they could be airlifted by helicopter back to the city of Cusco.